Young poet celebrates getting into print
Wednesday, 29th January 2014.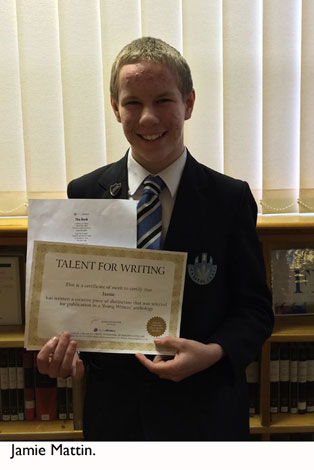 Castle Manor Academy student Jamie Mattin, 13, of Duddery Road, Haverhill, is celebrating the publication of one of his poems.
The poem, entitled The Dark was submitted to Young Writers in Peterborough who are publishing a Young Writers Anthology.
Jamie saw the competition advertised at school and already had a poem in mind. The piece was submitted in September and Jamie received a letter in January 2014 to tell him that his piece would be published.
Jamie is pleased with the result saying: "It is pretty awesome to be published. I really enjoy writing and always have. I'm really looking forward to reading the book and seeing my work in print."
Jamie enjoys school and is particularly keen on English. "I would like to be a performer in the future and writing is a good tool to help with that," he said. "I think I'll send work in to future competitions."
The Young Writer's Anthology will be published on March 31 and is available via their website and from some retailers.

Comment on this story
[board listing] [login] [register]
You must be logged in to post messages. (login now)