Young Striker Plays Biggest Game to Date
Thursday, 6th February 2003.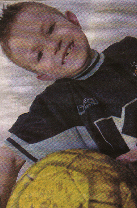 YOUNG footballer Aaron Forshaw is about to play in front of his biggest crowd to date, of around 4,000 people, after winning a place in Cambridge Unitedís Under 8 Elite Squad.
Aaron, aged eight, of Glemsford Place, Haverhill, will take part in an exhibition game during the half-time break in the match between Cambridge United and Shrewsbury Town.
He is a pupil at Westfield Primary School in Haverhill and also plays for Haverhill United.
He has been playing football since he was six and has been going to Cambridge United for more than a year.
Last year he was younger than everyone else and got dropped but this year he will be the same age as the other youngsters, who sometimes train and play at the Abbey Stadium.
Aaron is a striker and a prolific goal scorer.
He scored 42 goals last season in around 10 games and has notched up 22 already this season.
He aims to be a professional footballer like Michael Owen when he is older and supports Manchester United, as well as Cambridge United

Comment on this story
[board listing] [login] [register]
You must be logged in to post messages. (login now)