Commercial staircases are based in Essex, just 40 mailes away from Haverhill.
They have over four decades experience in external staircase design, manufacture and installation and are able to offer a one stop solution for all your steel fire escape staircases.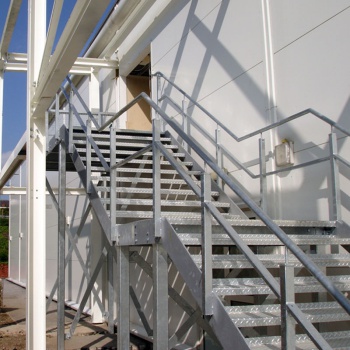 They also design, fabricate and install a range of indoor commercial steel staircases. They offer a diverse range, providing many types of bespoke steel staircases, for all types of businesses. They work with you to fulfill your project requirements, to deliver precision built steel stairs. They can incorporate mid and top landings, balustrade or wall handrails, to meet the required layout while complying with regulations.
Often businesses have limited space for external staircases, but our in house architects are experts at designing narrow external stairs. We produce many fire escape staircases and comply with all building regulations. The design team can produce a bespoke and attractive external staircase solution for you and then manufacture and install it.
They have over forty years experience in commercial staircase design, commercial staircase fabrication and business staircase installation. When it comes to commercial stairs, they are market leaders and offer a one stop solution for your bespoke commercial staircase.
As companies are becoming increasingly conscious of their corporate image and presentation, the front of house staircase is becoming a major business feature. Commercial Staircases produce strong and robust contemporary staircases, in stainless steel, glass and hardwoods to your exact requirements.