'Haverhill Then and Now' Exhibition
Tuesday, 8th January 2008.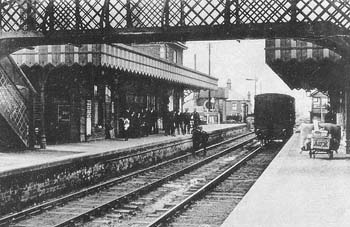 A photographic exhibition charting continuity and change in the Haverhill townscape over the last 150 years will be on view from Thursday 10 January to Monday 31 March 2008, in the Bistro at the Town Hall
Arts Centre
, Haverhill.
Highlights include the oldest known image of Haverhill, taken in 1860, and various other well known streets and places. The exhibition is brought up to date with images taken in 2007 from similar vantage points so visitors will be able to see how much has changed and which images look very similar. People may be surprised by how many views have changed very little despite major changes over the years in Haverhill.
This exhibition has been produced by the Haverhill and District Local History Group, in partnership with St Edmundsbury Borough Council's Heritage Service. Entry is free.
Haverhill Local History Centre normal opening hours
Thursday and Friday – 2-4 pm
Saturday – 10.30 -3.30 pm
and the first Tuesday of each Calendar month 7.00pm – 9.00pm (admittance to 8.00pm)
Tel no 01440 714962 – ADMISSION FREE
E-Mail Link: haverhillhistuk@googlemail.com


Comment on this story
[board listing] [login] [register]
You must be logged in to post messages. (login now)