Haverhill Arts Centre
The Arts Centre houses a 210 seater auditorium and offers a wide and varied programme of live theatre, dance, music, film and other artgorms. The main hall is also used as a dance hall and is available for wedding receptions and parties at certain times of the year. The studio and craft room are available for hire by community groups and for business conferences.
The Haverhill Cinema can be found at the Arts Centre (listed above), and offers all the latest films.
The Box Office is open Monday - Saturday 10.00am - 7.30 pm; Sunday one hour before the performance starts - 7.30pm Advance tickets may be booked by telephone on (01440) 714140 using ACCESS or VISA, or in person at the Box Office in the Arts Centre.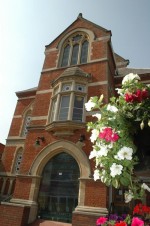 The Arts Centre's catering is provided by Abbey Leisure Catering Services who run both the bar and the bistro. In addition to being the perfect lunchtime destination, the very popular bistro is open om 10:00am till 4:00pm from Monday to Saturday, serving a selection of snacks and hot meals throughout the day. The bistro also houses the Arts Centre's exhibition space which acts as a showcase for local artists.
HOW TO BOOK
The Box Office is open :
Monday-Saturday: 10.00am-7.30pm
Sunday: 1 hour before any live show or cinema showing.
BY TELEPHONE
Phone 01440 714140 using Visa, Mastercard or Eurocard.
BY POST
Please send a stamped addressed envelope and payment to: Box Office, Town Hall Arts Centre, High Street, Haverhill, Suffolk, CB9 8AR.
Cheques payable to: S. E. B. C.
CONCESSIONS
Concession prices apply to children under 16, full time students, UB4O holders, registered disabled persons and senior citizens. Please produce evidence of entitlement when paying for or collecting tickets.
GROUP BOOKINGS
One free ticket with every eight tickets booked.
Please note that reservations for theatre events must be paid for at the time of booking.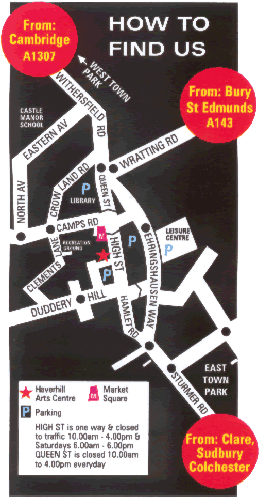 >> Photographs of Haverhill Arts Centre on Haverhill-UK :