A Local Viewpoint on the A1307
Wednesday, 23rd July 2008.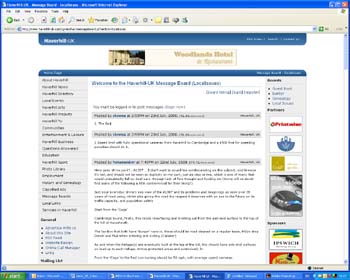 The A1307 between Haverhill and Cambridge has featured regularly on the Haverhill-UK Local Issues Message Board. The recent terrible accident on Saturday 19th June, in which three people lost their lives and four were seriously injured, has generated a number of new postings.
These include a long and thoughtful debate on possible improvements to the road to increase safety.
To read these entries
click here
Latest developments, reported in the Cambridge Evening News, suggest speed cameras will be activated on the A1307. Until now, despite warnings that speed cameras are in operation, this has not been the case. Cambridgeshire County Council is also considering other measures.

Comment on this story
[board listing] [login] [register]
You must be logged in to post messages. (login now)