A Vision for Haverhill ...
Thursday, 6th May 2004.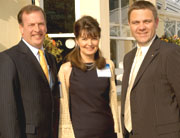 The Chamber's second event was as successful as its first, with over fifty members and guests from local businesses attending to listen to guest speaker, Mike Dawson, Corporate director of St Edmundsbury Borough Council. Mike was welcomed by Chamber chairman Paul Donno, who expressed the high expectations of those present:
"We are here to listen; we hope to leave inspired. But above all, we want to leave convinced that St Edmundsbury does have Haverhill's best interests at heart?"
The content of Mike's address perfectly complemented the speech delivered by
Richard Spring
, MP, at the first Chamber event on 2nd April, in which Mr Spring raised several key issues which he believed to be detrimentally affecting the future of Haverhill. Mike was able to comment on many of those concerns. He discussed at length some of the factors currently responsible for maintaining the status quo and examined the key issues shaping and determining development in and around the town. Referring to a "vision" for Haverhill, he illustrated the complexity of isolating one single clear view of what was necessary. Indeed, wryly observing that the town's current population of 22,500 could mean 22,500 views of what was the best way forward, he emphasised how keen the council is to resolve town centre issues and stressed its desire to work in partnership with local groups and key players in Haverhill to agree a shared vision, to meet the needs of the town, and to draw up a strategy by the end of 2004. The prime focus will be to improve the town's facilities, attract investment and generally raise Haverhill's profile in a positive manner.
It was felt that Mike delivered a candid and stimulating evaluation of the existing situation in the town. His presentation was followed by a lively discussion, with members and guests commenting on issues ranging from the pedestrianisation of the town centre, through to the proposed siting of Tesco's and the unpleasant aroma constantly in evidence at the viaduct. The latter was of particular interest to Mike, who confirmed that there had been very few complaints from the town to St Edmundsbury Borough Council regarding this problem. He emphasised the importance of involvement and direct participation as the best way to gain results.
Chairman, Paul Donno, thanked Mike Dawson stating he felt very reassured by his manifest and detailed knowledge of Haverhill, his clear involvement with the town's affairs and his professed desire to drive forward improvement.
Elaine Collins
Gold PR
Vice Chair
Click To View the Video >>>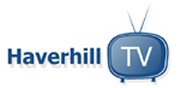 Comment on this story
[board listing] [login] [register]
You must be logged in to post messages. (login now)