Anger after PC's patrol hours cut
By Jo Deeks on Thursday, 28th June 2001.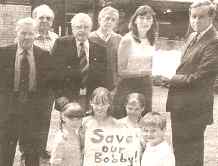 VILLAGERS at Kedington have signed a petition opposing cuts to the time their village bobby can spend on patrol.
MP
Richard Spring
visited the village to receive a petition with more than 1,000 signatures, which will be passed on to Paul Scott-Lee, the Chief Constable .
Pc Peter Ferrie's beat has been expanded to include parts of Haverhill, as well as the nine villages including Kedington which he covers at present.
Tony Sutton, the village's representative on St Edmundsbury District Council, has already resigned as chairman of its Neighbourhood Watch Group in protest at the change.
He said: "It's ludicrous, I think they should reduce his villages to four or five, not expand his area. At the end of the day it is the rural people who are getting missed out all the time," he said.
"If he is on an eight hour shift, with a couple of hours for paperwork, he can only spend an hour in six villages and three don't get a look in. The crime rate will go up if people are aware that he won't be spending as much time in the village," Coun Sutton said.
Mr Spring said he sympathised with the campaign, with violent crime rising by 60 per cent over the past three years and a raid on Kedington Post Office during that time.
"When crime happens in our rural villages it has a dramatic and unsettling ripple effect. Pc Ferrie does an excellent job and I am concerned that the assurance he gives by his presence will be reduced," Mr Spring said.
Inspector Mike Bacon, Haverhill's sector commander, said he had spoken to Mr Spring and explained the reasons behind his decision. From June 1 Pc Ferrie had taken over responsibility for the Cangle ward in Haverhill.
As the Kedington beat statistically had less demands placed on it, the move was intended to balance the workload between the two beat officers.
Insp Bacon said he would continue to monitor the beat, along with all the others, to make sure it was being effectively covered.
He said: "I'm confident that service to the people of Kedington will not be affected. I would also emphasise that police cover is provided 24 hours a day by response units from Haverhill."
CAPTION: Opposition ... MP
Richard Spring
collects a petition from Nichola Baillie and villagers Robert Clifton-Brown, Phil Stainer, Tony Sutton and Tony Knight. With them are primary school children Emma Poole, Kelly Beasley, Becci Blackmore and David Rushmere.

Comment on this story
[board listing] [login] [register]
You must be logged in to post messages. (login now)