Audience gripped by Pinter classic
By David Hart at Haverhill Arts Centre, Friday, April 30 on Tuesday, 4th May 2010.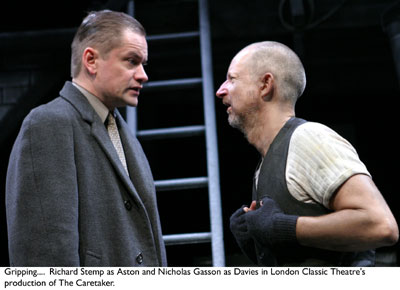 It was a brave piece of scheduling for Haverhill
Arts Centre
to take a touring production of Harold Pinter's classic The Caretaker, but Friday evening's audience was gripped by the play.
Pinter is not everyone's cup of tea, but a reasonable number of drama fans had turned out and were well rewarded by a tightly-played and well-nuanced performance from London Classic Theatre.
Of the three characters, Richard Stemp as Aston made the most immediate impact, with a commanding presence and still focus on his intricate concerns.
Nicholas Gasson grew into the part as the obnoxious and yet somehow sympathetic tramp Davies, his vulnerability well drawn.
Nicholas Gadd captured both sides of the almost schizophrenic Mick, aided by some subtle yet effective lighting changes.
Dialogue was generally taut yet varied, although there was scope for even more freedom in pauses and silences.
The superb set dominated the production, with its mysterious dark corners and unused spaces.
Director Michael Cabot drew a compelling picture of the inter-relationship between the three men and left us to think about what, if anything, they stood for, which made for a fascinating and thought-provoking meaning.
To have drama of this quality available on our doorsteps is yet another example of the great benefit the town receives from the presence of the
Arts Centre
and it would be good to persuade more people to take advantage of it.

Comment on this story
[board listing] [login] [register]
You must be logged in to post messages. (login now)