Business Awards Recognise Innovation and Excellence in the Haverhill Area.
By Elaine Collins on Thursday, 17th March 2005.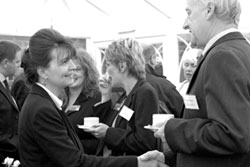 So what's new in Haverhill?
The Haverhill Chamber of Commerce and Industry was launched in February 2004. Now one year later, after celebrating its first anniversary at the town's
Arts Centre
, with a growing membership of over 70 organisations and an inaugural business awards programme culminating in a Gala Ball and Awards Ceremony in May 2005, no one doubts its remarkable success.
The new chamber was set up by a visionary and talented group of business people from the town, who recognised the pressing need for an inclusive business association in the area. Charmaine Symonds of Gold, Jason Fitzpatrick of
Pure Energy Multimedia
, Paul Donno of Paul Donno & Co Accountants, Steve Abbott of Jefferson Computer services and Paul McGurl of Risk & Safety Solutions, have worked tirelessly during the past twelve months to establish and secure the success of the Haverhill Chamber.
Chairman, Paul Donno, said, "The intention has always been to create a healthy, vibrant chamber which encourages a climate of enterprise: a chamber able to provide the right environment for members to network, co-operate, support each other, share best practice and debate national and local issues. It has been designed to provide a forum for every type of business – retail, service, trade and manufacturing – no matter what the size."
Since its launch, local business support for the new chamber has exceeded all expectations. It has been variously described as innovative, creative, intelligent, informed and pro-active. In a sense the optimism and vision of its committee seems to have harnessed the zeitgeist of the Haverhill area.
Charmaine Symonds, Managing Director of Gold Appointments Recruitment, said, "Haverhill business people have an energy and enthusiasm that I have not experienced elsewhere. Its members, who were keen and supportive right from the very start, have kept our chamber alive. The vigour of Haverhill is contagious and we are so lucky to be part of this thriving, developing town poised on the edge of further expansion and a sparkling future. Haverhill's business community is a welcoming community and this shows through at our monthly events. Visitors are encouraged, ideas expressed and business exchanged."
Along with Haverhill Enterprise 2000, the business group responsible for the new sculpture, '
Spirit of Enterprise
', to be found on the roundabout at the town's western access, St Edmundsbury Borough Council and local councils, the Haverhill Chamber is committed to raising the profile and visibility of the Haverhill area.
It was with this in mind that the Business Awards initiative was launched in July 2004 at a champagne reception hosted by British Telecom. Members felt that the time had come for the spotlight to be turned on Haverhill's business community to recognise the enormous amount of talent, expertise and enterprise that exists within the region.
The Business Awards rapidly attracted an enviable list of sponsors including three of the major banks, National Westminster, Lloyds TSB and Barclays as well as Haverhill Business Park developer, Carisbrooke Suon, and BAA Stansted.
Mark Pendlington, Director of Communications at the airport said, "These awards symbolise the success of the Haverhill Chamber and that of the town itself. Stansted will continue to support this progress and we look forward to building on the strong links we have with business in Haverhill in the future."
Regional radio company, Vibe FM, is both a media partner and sponsor of the 'Young Entrepreneur' category. Gary Robinson, Managing Director, said, "I am seriously impressed with the enthusiasm, passion and vitality of the Haverhill Chamber and this sponsorship will demonstrate our commitment to the business stars of the future."
Several Haverhill organisations including International Flavours and Fragrances, Neptune Spas & Pools, Grampian Country Foods, Risk & Safety Solutions, Printwise, Sigma Genosys and Genzyme have also agreed to act as sponsors.
Genzyme Corporation is one of the world's largest biotechnology companies and one of Haverhill's leading manufacturers. Dr Simon Cousins, vice-president of Genzyme's Haverhill plant, said, "There are a number of bold statements being made that reflect the growing confidence and vibrancy of the town. We in Genzyme are committed to developing our presence in the town and actively support initiatives that will make a difference and which are in keeping with our values. We are particularly delighted to be able to sponsor the Haverhill Business Awards, an initiative that marks another positive step forward in the town's development."
Yet another Haverhill company of international repute, Herma UK Ltd, has also supported the new chamber from its inception. Herma, regarded as the UK leader in its field, was set up in Haverhill in 1991 and manufactures a range of self-adhesive labelling equipment.
Managing Director, John McAlpine, said, "The Business Awards initiative is like a breath of fresh air, and reflects the enthusiastic and original approach of the Haverhill Chamber. It is just one of a number of new and positive ideas that we have seen emanating from a relatively new, but very positive and imaginative team."
The awards cycle will culminate in the Haverhill Chamber Business Awards Gala Ball on the 21st May 2005, which seems destined to be the Haverhill business event of the year.
Entries are invited from any organisation, public or private sector, within a 10 miles radius of Haverhill, including Clare. Companies may nominate themselves or be put forward by a third party, but an authorised signatory for the organisation must sign final submissions. The judging panel will consist of independent arbiters from industry, commerce and government.
The closing date for entry is 28th February 2005.
Gold PR
Story appeared in East Anglian Times Suffolk Business Magazine

Comment on this story
[board listing] [login] [register]
You must be logged in to post messages. (login now)