Centre Stage Company Youth Group - All Shook Up
By Liam Plumridge at Haverhill Arts Centre, Friday, October 23 on Tuesday, 3rd November 2009.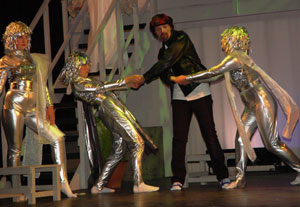 TODAY'S young people often get a bad press and the majority of young can people get tarred with the same stereotypes.
I just hope anybody walking out of the Haverhill
Arts Centre
after watching Centre Stage Company youth group's production of All Shook Up will consider a more positive view towards younger people and particularly the capabilities of the younger people in Haverhill.
For this was a spell-binding feat of theatre, dance and music combined with moments of perfect timing, side-splitting humour and intense, profound emotion.
The story, set to the music of Elvis Presley, sees Chad, a hip-swiveling, guitar-playing roustabout, released from prison and arriving in a dreary little town in which brings music and the notion of excitement is strictly forbidden.
Several love stories are brilliantly played out to the resonance of One Night With You.
This becomes a general theme through the show as the characters discover their love for each other in which it is excellently interwined.
Tomboy mechanic Natalie is the first struck down by the One Night With You syndrome and falls in love with Chad, but Chad does not like Natalie, for he has got caught by the love bug over museum curator Miss Sandra. As you can probably guess she does not fall for Chad but, bizarrely, for 'Ed', Natalie's male disguise to try and get closer to Chad, but of course this becomes disastrous.
Meanwhile, geeky Dennis, always a secret admirer of Natalie is trying to pluck up the courage to share his true feelings for Natalie, but they are only quashed. The play's other love stories are as complicated, as Jim, a Natalie's widowed father, is also in love with Miss Sandra but Jim is admired by the feisty cafe owner Sylvia. In the end, of course, all the lovers end up very happy.
I cannot count all the incredible moments which this company produced for me and fellow members of the audience, but I can list some really outstanding things.
The show's opening was sensational, with an incredible impression made on the audience with Jailhouse Rock. The scene was set most brilliantly and what was so good about this show was that from then on it had a real warm sense of unity throughout the whole of the cast, and a chorus that made the intricate dances and difficult vocals in some of the big numbers seem easy.
Tom Bailey's performance as Dennis was very special. His stage presence, mannerisms and comic timing created a excellent character for which the audience had great affection.
Credit to the costume department not just for his costume but for all of the show's costumes, as they were terrific, but the Peewee- esque dress of Dennis was very good.
Lauren Chinery did not disappoint as Natalie with her fantastic vocals, neither did Lydia Crang as Miss Sandra, a fantastic all-round acting and vocal performance from a very talented actress, who has a true belter of a voice and gave some real guts to the songs she performed.
John Chandler as Jim looked the part and his likeability factor was the key to a very good performance. Sylvia played by Megan Brewster created the vocal moment of the show with her angelic and stunning song There's Always Me.
She played the part of Sylvia very well with a strong American feistiness yet mixed in with some excellent emotion.
Of course the principal part of Chad could easily be made into a Elvis wannabe, but Lee Mayes steered the ship very well, with impressive pesazz.
Other mentions go to the excellent cameo role of Alex Davison as Sheriff Earl who was side-splitting and reminiscent of a young Rowan Atkinson.
This show was of real high quality, credit going to the direction of Amy Letcher and the choreography and musical direction of Rebecca Neal and Karen Chinery respectively. This was really entertaining fare, and it is such a shame I cannot see this production again!
* Our picture shows Natalie (Lauren Chinery) disguised as 'Ed', encountering some dancing statues in the museum garden to the music of Let Yourself Go, in a scene from All Shook Up.

Comment on this story
[board listing] [login] [register]
You must be logged in to post messages. (login now)