Computer museum 'a fabulous asset', says MP
Saturday, 5th December 2009.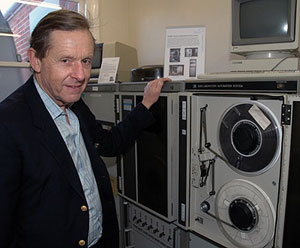 West Suffolk MP
Richard Spring
paid a visit to Haverhill's
Centre for Computing History
yesterday (Friday), to learn more about the museum's plans for the future.
Mr Spring was introduced to trustees and volunteers by the museum curator, David Coxshall. He was also given a tour of the museum which holds a combination of permanent and temporary displays telling the story of the Information Age.
The centre has enjoyed a very busy year following its appearance as one of the principle attractions at Channel 5's The Gadget Show Live at the NEC in Birmingham. It was also invited to take part in the Open University's 40th anniversary celebrations at Milton Keynes.
My Spring said: "The
Centre for Computing History
is a fabulous asset for Haverhill and a valuable facility for the wider community. With its unique collection of technical equipment going back decades it's a valuable reminder of how the technology we take for granted today has evolved. The centre really does provide a trip down memory lane for those of us who can remember using these objects.
"For young people it offers a wonderful glimpse of how parents and grandparents grappled with the technology of their day."
Chairman of the centre's trustees Jason Fitzpatrick said: "We were delighted to host this visit from
Richard Spring
. It gave him the opportunity to review our progress and understand our ambitious vision for the centre's future.
"The museum has outgrown its present home and is only able to exhibit a fraction of the collection. We urgently need larger premises which will allow school children to visit; we currently have to turn away several school parties every month.
"Although we have received offers of a new home from outside the local area, we are determined that, as a Haverhill initiative, the centre should remain in the town."
Many computers and electronics props sourced from the
Centre for Computing History
have appeared in major television documentaries and dramas including the recent BBC production Micro Men which profiled some of the brilliant and eccentric characters, including Sir Clive Sinclair, who triggered the beginning of the UK computer revolution.
The
Centre for Computing History
supplied all of the computers and technical props for the programme. Mr Fitzpatrick was also commissioned to design and build from scratch the prototype BBC micro that is seen in the film. As the original no longer exists, he had to build it based on two old photographs of the machine and guidance from the original designers.
* Our picture, by Steve Bryant, shows West Suffolk MP
Richard Spring
with classic computers at the
Centre for Computing History
.

Comment on this story
[board listing] [login] [register]
You must be logged in to post messages. (login now)