Cor Baby That's Really Free
By Gillian Blackmore on Wednesday, 18th April 2007.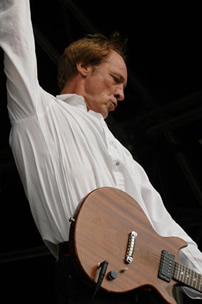 No - I don't remember it either. But that was John Otway's Top 40 hit in the 70s and he was playing at Haverhill
Arts Centre
on Saturday.
The
Arts Centre
was fully booked! Now, perhaps like me you hadn't heard of John Otway or his hit(s). The group of friends I went with were all just that bit older than me and I was assured by them, that I would recognise his two Top Ten Hits from the 70s when I heard them.
The seats were arranged table format which provided an intimate and friendly layout giving the audience the opportunity to go to the bar during the performance. It was obvious from the reception he got coming onto the stage, that there were many die-hard fans in the audience. They were probably among the fans who bandied together to get Otway his one and only top ten hit in 2002. Bunsen Burner? No I don't remember it either. It's a take on the more widely known Disco Inferno and a number of record stores just wouldn't stock the CD as it didn't appeal to the mainstream of their customers. Remembering, that I was not one of them, it was a fantastic evening. It was a complete one man show with John playing a range of guitars for two hours.
As well as playing his two top 40 hits, which I have to admit I didn't recall, he is a very engaging and amusing character. In between songs, he kept up a witty and interesting chat which provided a well-rounded performance. His repertoire included a fascinating delivery of Sweet's Blockbuster and a well heckled version of The House of the Rising Sun. Sadly I couldn't join in – but everyone else seemed to know what to say. He also gave an interesting demonstration of his invention for a Madonna style head microphone. Let's just say it involved an ingenious bending on a wire coat-hanger around his neck and the placing of a standard microphone into it. I think you had to be there.
Towards the end, I got the feeling that the encores would go on all night. But he easily sorted that one and told the audience that Headbutt would have to be his last song of the evening as he can't do another song after one spent headbutting his microphone. Again, I think you had to be there.
It is obvious that John Otway has spend a lot of time in his life playing gigs. He walks on stage looking like anything but a rock star - but as soon as he starts his performance it is clear that he has been there, done that and bought the t-shirt gigging-wise. He has a very casual, laid-back style and towards the end of the evening, I considered that for the price of my £10 ticket with free parking thrown in only 3 miles from my home – it might not have been 'really free' but I couldn't remember the last time I had such a good value and entertaining evening.

Comment on this story
[board listing] [login] [register]
You must be logged in to post messages. (login now)