Council's Summer In Haverhill programme is full of free events
Tuesday, 12th July 2011.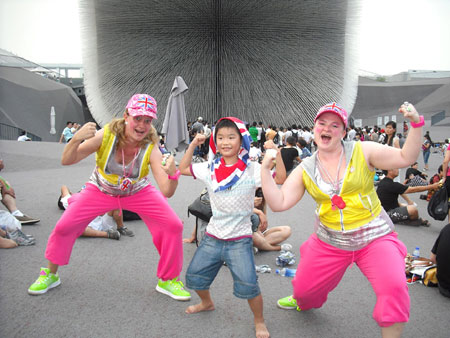 Haverhill Town Council
has published its programme for the summer holidays, Summer In Haverhill 2011, with more free events than ever before.
The Big Day Out on Wednesday, July 27, on the Recreation Ground, will this year feature a free Extreme Adventure Course with High Ropes, Spider Mountain, Scramble Nets and more. Other activities include workshops, demonstrations, advice and information from organisations within the town.
The Big Bash, Haverhill's charity fund raising day, takes place on Sunday, July 31, again at the Recreation Ground.
In addition to stalls from local organisations, there will be music from Haverhill Youth and Community Band, a car boot sale and street theatre including Jon Hicks, International Man of Artistry who makes his brushmark with rapid-fire painting, Bling and Ting, two oversized teenage girls, and John Teasdale who, armed with one small suitcase full of props and one high unicycle, presents a show filled with comedy, juggling and truly memorable entertainment.
The Great Big Tribute Night 1, a free event on Saturday, August 6, at 8pm on the market square sees The Greatest Tribute to Take That and Robbie Williams plus Tribute Chix singing all the best from the hottest girl acts in the charts including Lady Gaga, Sugababes, The Saturdays, Girls Aloud, Beyonce and more.
On Saturday, August 27, at 8pm on the market square the Great Big Tribute Night 2 is also free and features The Jackie Generation with fabtastick pop hits from the 1970s plus top tunes from the 50s and 60s, with the Sing Out Sisters and Jade Donno, finalist at the Open Mic 2010 at the 02.
New for this year there will be a series of free family fun days on Wednesdays throughout August. Things get started on August 3 with Castle Capers at Castle Playing Fields. Bring a picnic and join in the fun with Flatbed Trampolines, Abbeycroft Leisure Sports equipment, and more from 11am to 3pm
On Wednesday, August 10, between 10am and 4pm the Children's Festival takes place on the Recreation Ground with music workshops, dance, magic shows, art and craft workshops, story-telling, sports and games.
East Town Park
will be the location for the Picnic in Park on Wednesday, August 17. Last year more than 700 people joined in the fun. There will also be entertainment from Calamity the Clown plus a Giant Slide and a Bouncy Castle
On Wednesday, August 24, from 11am you can take part in Summer Ice Skating on The Plaza beside Haverhill
Leisure Centre
. There will also be a bouncy castle, Abbeycroft Leisure Sports equipment, play stuff and more.
A Climbing Wall will be the main attraction on Wednesday, August 31, at The New Croft on Chalkstone Way. Other play and sports equipment will be available too.
Yet another free event takes place on Sunday, August 21, Free Family Sunday will be on the Recreation Ground from 11am to 3pm with inflatables and a magic show with El Rico.
The U Festival days on the Market Square have been created with young people aged 12+ in mind. Thursday, August 4, has a Street Football Cage and live music, Thursday, August 11, is all about skating with more live music and Thursday, August 18, has breakdancing workshops and Dubstep DJs.
The U-Festival days are all free and take place between 12pm and 4pm. On the August 25, between 7.30pm and 11.30pm there is a special event for ages 16+. Dubfunk, at the
Arts Centre
which features the best in Electronic Music and is a non-alcoholic event.
The
Arts Centre
will again host a selection of family and children's events to ward off the boredom: first up is Hairy Maclary. Following a sell-out run at the Edinburgh Fringe Festival Nonsense Room Productions brings to the stage several stories from the popular books on Friday, July 29, at 11am and 2pm.
Sealegs Puppet Theatre make a welcome return to the
Arts Centre
on Thursday, August 4, at 2pm. Last year they brought The Ugly Duckling to life now they turn their attention to Little Bo Peep.
Also, with a naughty mouse and nursery rhymes such as Hickory Dickory Dock and The Grand Old Duke of York, Fiddlesticks, on Tuesday, August 16, at 2pm, is the charming, musical story from Garlic Theatre with a lively blend of clowning, puppets and live music.
Norwich Puppet Theatre and Banyan Theatre join forces on Thursday, August 25, at 11am to present Thumbelina, Hans Christian Andersen's story of a girl so small she can float on a lily pad and ride on the back on a dragonfly.
There will be more theatre in store as Cambridge Touring Theatre brings the adventures of the riverbank chums, Ratty, Mole and Toad, to life in their fast and funny production of Wind In The Willows at
East Town Park
on Saturday, August 7, at 5pm.
Bring the whole family, a picnic and send the children to a pre-performance workshop at 3.30pm.
There will be more drama in
East Town Park
when Haverhill's Outspoken Theatre Company perform Shakespeare's Richard III on Tuesday, July 26, at 7.30pm.
Samantha Tucker will be running children's Drama Workshops at the
Arts Centre
on Tuesday, August 2 (Exploring the World of Pantomime), Tuesday, August 9 (Fun Introduction to Drama), and Tuesday, August 16 (Playing and Developing Characters). All workshops start at 2.30pm and culminate in a performance for friends and family.
For a booklet including all Summer In Haverhill events and holiday clubs call Haverhill
Arts Centre
box office on 01440 714140.

Comment on this story
[board listing] [login] [register]
You must be logged in to post messages. (login now)