Enterprise, entertainment and excitement ... the fifth Haverhill Business Exhibition had it all
Monday, 27th March 2006.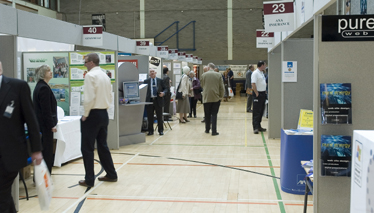 Haverhill was once again hailed as the rising star in Suffolk during the opening speeches of the 5th Haverhill Business Exhibition, which took place last Friday and Saturday, 24th - 25th March at Haverhill
Leisure Centre
.
Alan Duncan, Shadow Secretary of State for Trade and Industry opened the exhibition on Friday lunchtime. Mr Duncan's sense of humour was evident throughout his visit to the exhibition. He spent some time walking around meeting some of the 57 exhibitors before giving a very entertaining speech to a packed audience of local business people. Mr Duncan took the opportunity to relax with a massage from Eve's Holistics before leaving Haverhill for his next appointment.
The series of 16 workshops organised by Ensors Chartered Accountants were well received and added a new dimension to the event. Angie Ranshaw from The Little Bouncy Ball Shop attended ten of the workshops. Angie explains, "I want to expand my company and have limited business experience. I thought I would come along to these free sessions to see what I could learn. I am so glad that I did, it has been really useful for me. I learnt so much from the workshops and also made some contacts at the exhibition. I now feel suitably clued up and motivated to take my business onto the next level."
Selina Austin, Creative Director from local brand management company, The Design Office, stepped in to save the day for Ensors when one of their speakers had to pull out at literally the last minute. Selina had a call on Thursday morning to ask if she could take over two of the workshops, one on the importance of branding in gaining people's attention and the other on websites and the Internet. "Although I did feel nervous about stepping in at such short notice these workshops were about what I do. I work with clients day in and day out on their brand creation, development and management and on website design and development. Talking about these topics just comes naturally to me. I enjoyed the challenge and was pleased that we didn't have to let the people who had booked onto these two very popular workshops down." said Selina.
Another company who "saved the day" were WS Networks, IT networking specialists. Paul Cook MD of WS Networks had agreed to provide wireless Broadband Internet access for those exhibitors who required it for the duration of the Exhibition. Unfortunately this proved a little more problematic than first anticipated. Security issues prevented the use of the
Leisure Centre
's own Broadband service so an alternative, cost effective source had to be found. The situation was eventually resolved late Thursday afternoon when a kind-hearted member of the Haverhill Round Table agreed for the service to be routed through his home! Barry Dalton explained, "Being part of the Haverhill Round Table we are often asked to help out however this request was a bit unusual. It took a bit of explaining to my wife when the system went down on Friday morning and we had an unexpected guest at the breakfast table trying to rearrange the aerial!"
Paul Donno, Chairman of the Haverhill Chamber of Commerce, said, "This was a great event. We have had some very positive feedback already with companies saying they generated new business as a direct result of being at the Exhibition. There was a lot of networking between exhibitors, new relationships formed and existing ones strengthened. Our Upper Schools – Castle Manor Business & Enterprise College and Samuel Ward Arts & Technology College, impressed all who visited the Exhibition. They warranted a special mention from Alan Duncan who echoed all our thoughts - if the schools represent our future then Haverhill's prospects are very bright."
Click To View the Video >>>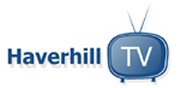 E-Mail Link: info@haverhillenterprise.co.uk


Comment on this story
[board listing] [login] [register]
You must be logged in to post messages. (login now)