Escaped Murderer: MP Blasts "catalogue of incompetence"
Thursday, 8th March 2007.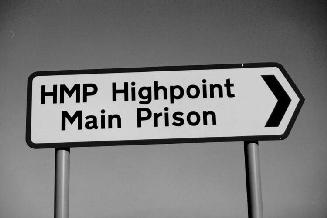 Haverhill and West Suffolk MP,
Richard Spring
, has spoken out fiercely after finally receiving answers from the Home Office admitting the recaptured prisoner Mark Ryder had still not been interviewed, six weeks after he was brought back into custody.
Mark Ryder, serving a life sentence at HMP Highpoint (Suffolk) for killing a love rival, absconded from custody when he was taken on a shopping trip to Cambridge on 12th October 2006. He evaded two prison escorts, in what was termed a "licence failure", and then managed to flee the country. He was finally apprehended in Spain on 11th December 2006 awaiting extradition back the UK.
Richard was horrified when he learnt of this situation and raised it personally in a meeting with the Prisons Minister, Gerry Sutcliffe, who conceded that it had been "badly handled".
After putting down further Parliamentary questions to the Home Secretary, John Reid, on the 9th January 2007, surrounding the circumstances of Ryder's escape from the country, Richard had to wait more than six weeks for an answer from the Home Office.
The reply he received 5th March 2007 stated that Mark Ryder was surrendered to the British Authorities on 17th January 2007, but that "it has not yet been possible to interview him to ascertain the means by which he fled the United Kingdom".
Richard commented: "It is bad enough that a convicted murderer was able to evade two prison guards whilst on a supervised shopping trip and then flee from the UK to Spain. Disciplinary action has since taken place about his escape in Cambridge.
"It displays a shocking level of incompetence that, after a huge police manhunt is undertaken to find Mark Ryder, when he is finally found, there has been no time available to interview him and find out how he left the country.
"It should have been the number one priority once he was back in Britain. At a time of heightened national security, due to threats of terrorism, the public need to know that our borders are safe and secure. This was a clear failure of border security.
"For nearly three months, Ryder's whereabouts where unknown. The attitude displayed by not interviewing him thoroughly and immediately is simply not good enough.
"This has been a catalogue of incompetence from start to finish. I shall continue to seek answers as to why there was such an inexcusable delay."

Comment on this story
[board listing] [login] [register]
You must be logged in to post messages. (login now)