Family's council tax bill shock
By Jo Deeks on Thursday, 9th May 2002.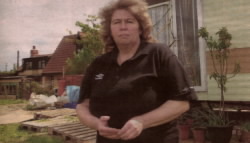 A family forced to live in a caravan for more than a year after their house was badly flooded now face paying two Council Tax bills.
Christine O'Gorman, her husband Paul, and daughter Sam, 24, have been living in the caravan since last January, waiting for repair work to be completed on their Little Wratting home near Haverhill.
Their house, parts of which are 300-years-old, was devastated by flooding in October 2000. They were wading in up to three feet of water and all the floors, plus many of the walls, had to be ripped out.
Since then Mrs O'Gorman said they have been battling to get repair work completed, after delays in gaining approval from the loss adjuster and from builders carrying out no work for 13 months.
Mrs O'Gorman said they were happy with the current builders, but sill faced delays caused by the loss adjusters and had no idea when the work would be finished.
Now they have received Council Tax bills for the caravan and house from St Edmundsbury Borough Council totaling almost £1,000.
Mrs O'Gorman said they were at the end of their tether after receiving the bills.
"It's a joke. It is a nightmare living here. At first we laughed about it. But we thought we were losing our home when some peopled lost lives in the flood. Now it is really getting us to us.
"We are driving to London four times a week for a bath as there is only a shower here. It is only meant as a holiday caravan, not as a permanent home. We thought it would be easier to stay here as we have horses to look after.
"We thought we could keep an eye on the workmen to speed things on, but it has been a nightmare. I know we have to pay our rates, but it seems ridiculous that we have to pay twice," Mrs O'Gorman said.
MP
Richard Spring
has written to council chief executive Debroah Cadman asking her to investigate the matter.
"It seems ridiculous for the couple to be sent two bills when they are living in the caravan through need rather than choice.
"I would have thought the council could apply some flexibility in this type of situation where residents are forced to live in additional accommodation on their land through no fault of their own," Mr Spring wrote.
Graham Moore, assistant director (finance) for St Edmundsbury Borough Council, said new Government regulations meant Council Tax could only be waived for a year and the council had no discretion, although only half the normal bill was being charged for the house.
A letter had been sent to the O'Gormans suggesting they write to the valuation officer who did have the power to take the property off the list. We have a great deal of sympathy but we are only implementing Government legislation. If a property is listed we have to send out a bill, Mr Moore said."
CAPTION: Flood fiasco … Christine O'Gorman whose family has endured more than a year in a caravan after being flooded out of their home.

Comment on this story
[board listing] [login] [register]
You must be logged in to post messages. (login now)