Genzyme Haverhill: Celebrating 25 Years
Sunday, 6th January 2008.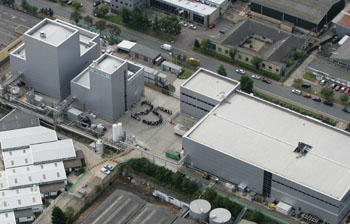 On December 6th 2007 Genzyme in Haverhill celebrated its first quarter century in the town, marking 25 years of growth, innovation and success. To commemorate this silver anniversary, the company planted 25 silver birch trees at the site with a view to creating a quiet, green area for staff to enjoy in good weather.
A number of guests from organizations across the region, including Richard Herbert, Chairman of Haverhill Enterprise, representing the local business community and Peter McCarthy Ward, from EEDA, representing the wider business community, were invited to the ceremony. Les Ager, Haverhill's Deputy Mayor, planted the last tree aided by Mick Metcalfe, one of Genzyme's longest serving employees and Simon Cousins, Vice President and General Manager at Genzyme Haverhill.
Reflecting on some of the many fascinating and dramatic developments that have unfolded at the Haverhill site over the past 25 years, Simon Cousins said: "It has been an interesting journey. It has also been hugely eventful for the company. Without a doubt, Genzyme's record of innovation and success in Haverhill can be attributed to our legacy of exceptional employees with a passion for excellence and an unwavering commitment to our patients. Today, on our 25th anniversary, we celebrate the people of Genzyme who have contributed to this success throughout the years. It is their dedication that will continue to carry Genzyme forward."
One of the world's leading biotechnology companies, Genzyme's products and services are focused on rare inherited disorders, kidney disease, cancer and transplants. Genzyme's commitment to innovation continues today with a substantial development programme focused on these fields, as well as immune disease, infectious disease and other areas of unmet medical need.
Since its foundation in 1981, Genzyme Corporation, based in Boston in the USA, has grown from a small start-up to a diversified enterprise with nearly 10,000 employees in locations spanning the globe.
Genzyme's Haverhill Operation has contributed significantly to this success story. The parent company purchased Koch Light Ltd on the Hollands Industrial estate in Haverhill in 1982 and commenced operations with just 25 staff. After several years, facilities were constructed to enable the manufacture of pharmaceutical ingredients. Genzyme began testing, labelling and distributing therapeutic products throughout Europe, which led to its achieving the Queen's Award for Export in 1994.
But it was only as it entered the 21st century that Genzyme emerged with the profile it has today. A dramatic restructure and building programme led to the creation of two large-scale plants which, as well as providing a ten-fold increase in production capacity, transformed the industrial landscape of Haverhill. Genzyme's very contemporary architecture remains a striking landmark closely associated with the town across the region.
West Suffolk MP,
Richard Spring
has stated: "It is a wonderful building and such a great tribute to Haverhill. I am absolutely thrilled as it is such a vote of confidence for the town and part of its renaissance."
Genzyme Haverhill continues to gain recognition for its state of the art development, manufacturing and distribution facilities and serves as a European hub. It manufactures bulk quantities of sevelamer hydrochloride, the active ingredient in Renagel, Genzyme's pioneering drug treatment for patients on kidney dialysis.
Since the millennium, capital investment in the site has exceeded £100M and over 300 people are now employed there. It has always surpassed itself in health, safety and environmental terms and in 2006 won this category in the National Best Factory Awards. It has also received a coveted 4 Star Environmental rating from the British Safety Council, rendering it one of the most environmentally friendly pharmaceutical companies.
Having forged long standing and successful relationships with the local community and local schools, Genzyme continues to support many educational schemes and frequently organises school tours of the site. The company regularly contributes financial aid to a variety of local projects.
Genzyme's silver anniversary last December marked the beginning of yet another new era for the business, as it completes an £18 million expansion to accommodate the manufacture of the second generation renal failure drug Renvela, due to commence early this year.
However, the 'jewel in the crown' of 2007's anniversary year accomplishments was employee participation in Genzyme's global volunteer programme 'Genzyme Invests in Volunteer Efforts' (G.I.V.E) which aims to inspire staff to take part in initiatives which benefit their local communities. More than two thirds of Genzyme's workforce in Haverhill participated in the challenge, raising £6,500 locally and contributing over 230 hours worth of volunteering activity at St Nicholas' Hospice. In recognition of this unprecedented achievement, Genzyme's parent company matched the sum with a further donation of $15,000 resulting in the Hospice receiving a total of £13,700.
At the anniversary celebrations held in December, Simon Cousins thanked all of those present for their ongoing commitment to the company and the part they play in providing and ensuring medication reaches the people who need it at the right moment. He said: "I congratulate everybody at Genzyme, past and present, for their roles in making us what we stand for today, and hope that this event will not only mark twenty five years of history-making achievement, but the start of another prosperous and inspirational period in our future history."
He also expressed his thanks to the people of Haverhill saying: "Our successes couldn't have been accomplished without the support of our local community and authorities which makes doing business in Haverhill always a pleasure."
Genzyme's international presence, groundbreaking innovations and expertise in life sciences carries the name of Haverhill across the world. There's a real sense of excitement within the company for what the future holds.

Comment on this story
[board listing] [login] [register]
You must be logged in to post messages. (login now)