Haverhill: The Way Forward?
Wednesday, 22nd November 2006.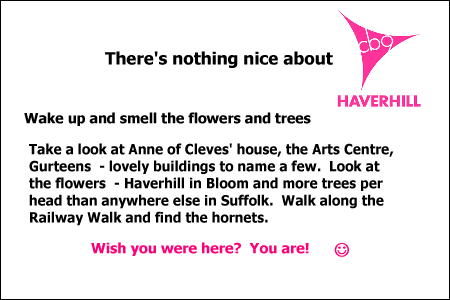 The new
Haverhill Brand
, created by The Design Office, was unveiled at Haverhill
Arts Centre
in June. The next phase of the Brand Project, the Haverhill Marketing Strategy by Elaine Carr, FlipFlop Marketing, was passed before the Haverhill Area Working Party for approval on 23rd October and is due to be released shortly. The draft submitted to the HAWP has been available to view online since the 19th October.
See below for link.
FlipFlop Marketing of Haverhill, marketing partner of The Design Office, was commissioned last June by St Edmundsbury Borough Council to research and produce a marketing strategy for Haverhill.
The strategy's executive summary describes how St Edmundsbury Borough Council:
"…has committed £10 million over the next ten years to fund and pump prime investment projects, commissioned branding to create an identity that reflects the values and aspirations of the town and commissioned this marketing strategy to promote the town to the local community."
Elaine Carr of FlipFlop Marketing has recently presented an overview of the draft Internal Marketing Strategy and Action Plan for Haverhill to a number of the town's stakeholders, including Haverhill Chamber of Commerce,
Haverhill Rotary
Club, Haverhill Area Working Party, Haverhill Town Centre Management Committee.
A key objective for the
Haverhill Brand
/ Haverhill Marketing Strategy is to encourage local people to take a fresh look at Haverhill. Pictured here is an example of one of the ideas put forward in the Haverhill Marketing Strategy document; this is for a postcard campaign designed to overcome negative perceptions. [see page 78]
To view the Haverhill 'Civic Pride Marketing Strategy' document
Click Here
Haverhill-UK would be delighted to hear the views and ideas of business and community regarding the new marketing strategy for Haverhill.
Please email:
comments@haverhill-uk.com
Mike Dawson, Corporate Director Community, St Edmundsbury Borough Council, will be hosting a discussion on the current progress of the Haverhill Master Plan at a Chamber of Commerce meeting at Castle Manor Business and Enterprise College on Tuesday November 28th.
For further details
Click Here
E-Mail Link: comments@haverhill-uk.com


Comment on this story
[board listing] [login] [register]
You must be logged in to post messages. (login now)