Haverhill Hosts Women in Business Conference
Tuesday, 27th May 2008.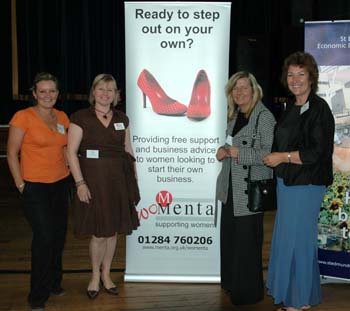 Haverhill recently hosted a key conference organised by East of England business network, Enterprising Women, in association with local business group WoMENTA. Held at Haverhill
Arts Centre
, the event brought together nearly 100 delegates from across the region.
A key note introductory address from Beverly Hurley was followed by two inspirational and entertaining presentations from the event's guest speakers.
The first of these was local success story, Jan Cavelle of the Haverhill based Jan Cavelle Furniture Company. Jan Cavelle explained how she had originally started her business selling furniture from home as a way to support herself and two small children. The company has expanded by between 30 and 50% every year, and now has over 30 staff and a turnover in excess of £1.5 million.
For mother-of-two Janean Ward, what all began with a house extension very quickly turned into an enterprising business. She now owns two mini diggers and a mini crusher and goes around clearing rubble, ripping up concrete, crushing building waste, clearing overgrowth, burying dead animals and digging ponds. Last September she invested in a one-and-a-half tonne JCB mini digger and trailer and last January registered herself as Mini Digger Hire.
Commenting on the Haverhill event, Bev Hurley said:
"This is the first time that Enterprising Women, in partnership with WoMENTA, have run an event in Haverhill and we got great support. St Edmundsbury Borough Council were there to talk about how they can help with local businesses, and our speakers Jan Cavelle and Janean Ward had some wonderful and candid stories about their journeys into enterprise. There was a really fantastic turn out for this event and a great welcome from Haverhill!"
Photograph shows: Janean Ward of Mini Digger Hire, Roseanne Kilbourn of MENTA, Jan Cavelle of the Jan Cavelle Furniture Company and Bev Hurley of Enterprising Women.

Comment on this story
[board listing] [login] [register]
You must be logged in to post messages. (login now)