Haverhill's Pure Energy Multimedia Identifies Online Marketing Momentum…
Thursday, 18th May 2006.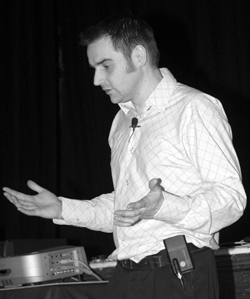 Positioning the web at the centre of communications and marketing strategies to ensure business success was the theme for Haverhill Chamber of Commerce's May event, held at the town's
Arts Centre
. This topic, which was delivered by Jason Fitzpatrick of local company
Pure Energy Multimedia
, and a founder member of the Haverhill Chamber, proved a popular choice and generated an unprecedented level of interest for a speaker from the private sector, attracting over fifty chamber members and guests.
The subject of online marketing clearly resonates with a wide audience and yet still remains something of a black art. Pure Energy's engaging presentation deliberately avoided web discourse and translated terminology into crystal clear concepts. Emerging trends, services and technologies were identified and analysed with clarity and precision.
This fast-paced, fact-packed talk caused a palpable buzz in the auditorium; audience participation was also encouraged by the big screen interactive display, supporting content through a live internet connection.
The central focus was on Search Engine Listings, Data Capture, Email Alerts, E-Newsletters and Online PR. Jason described the process of acquiring, converting and retaining customers through strategic online marketing. Tips were offered on how to exploit the creative power of the web, optimise site visibility and reinforce brand clarity and consistency.
The key message was 'realities not just theory'.
Commenting on the event, Jason said:" I was delighted and surprised with the interest shown from such a varied audience and with the requests for more information we have received over the past few days.
"My premise is that the web can no longer be described as 'new' media. It has become an indispensable component in the success of any business and should be at the centre of all marketing and communications strategies. Used appropriately, the Internet can help companies reach a wider audience, at a lower cost and with greater flexibility than traditional marketing methods. No form of marketing is as measurable - an important feature in terms of accountability – empowering, or immediate.
"I believe a new dawn is breaking as online marketing gathers momentum. Earlier this year, internet advertising outstripped radio for the first time and the web looks set to become the dominant marketing medium of the 21st century. What's more, if you can dominate the market for search you can dominate the net."
Local accountant, Larry Dilloway confirmed: "This presentation was highly informative and drove home the impact of the Web on all aspects of business. It was fascinating to find out what really works in terms of presence, visibility and e-marketing; but equally as important was discovering what doesn't work.
"One thing's for certain, online advertising and marketing are firmly rooted in the technology industry and it's an area of phenomenal growth. We are witnessing a sea change within the marketing sector. Jason's industry knowledge and expertise in this area is considerable. His optimism is contagious and captures the imagination. Pure Energy is an invigorating and forward looking company."
Paul McGurl of Risk & Safety Solutions
stated: "The content was relevant, compelling and thought provoking. It illuminated the future direction of business services and highlighted the enormous power, potential and momentum of the Internet as the key marketing medium."
Pure Energy Multimedia
specialises in Web Development, Digital Media and Internet Marketing. The company have been creating websites, developing online marketing strategies and producing feature rich e-commerce sites since 1997.
Elaine Collins
© Gold PR
info@goldpr.co.uk
E-Mail Link: info@pureenergymultimedia.com


Comment on this story
[board listing] [login] [register]
You must be logged in to post messages. (login now)