Home team dominates awards at drama festival
Monday, 28th May 2012.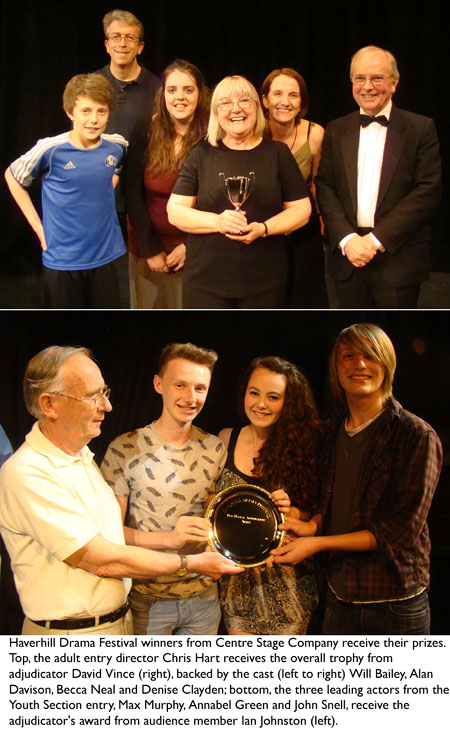 Haverhill-based drama group Centre Stage Company dominated the awards at the 2012 Haverhill Drama Festival last week, winning six of the ten categories, and seeing off competition from across Suffolk, Essex and Cambridgeshire.
The adult company took home the overall trophy for Best Play for their production of Hanging About For 2059, best director for Chris Hart, best actress – awarded jointly to Becca Neal and Denise Clayden - plus the award for Best New Play to author David Hart.
The group's Youth Section won the Don Mackay Adjudicator's Award for their teamwork and endeavour on their production of The Exam by Andy Hamilton, directed by Lauren Chinery, plus Best Cameo for Cian Harriss in the role of a dead Dad.
Hanging About for 2059, a play about two female pantomime stars waiting for their chance to perform the lead roles in Samuel Beckett's Waiting For Godot, was receiving its premiere in Haverhill on Friday night to a rapturous reception.
Author David Hart said: "We are delighted that the play did so well and that the audience enjoyed it despite its challenging subject matter. Personally it was so exciting to see one's ideas brought to life on a stage so successfully by such a capable cast."
Centre Stage Company chairman Jim Morgan commented: "The Centre Stage committee last year made the decision to ensure our members got the support to enter plays into the Haverhill Drama Festival.
"We see this as an opportunity for people to take bigger roles or try their hand at direction as part of our strategy of growing the group.
"The committee and I are absolutely delighted that our youth section play and senior group play were nominated in eight of the ten categories available, winning six of these outright.
"We feel that this is a great achievement by all concerned from our group and are already planning our defence of these titles for next year's Haverhill Drama Festival."
Adjudicator David Vince praised the high quality and diversity of the drama during the week and was particularly impressed by the new plays, the talent of the youth and the two excellent adaptations of Shakespeare.
The festival ran over five nights and included 70 actors taking part in ten plays in more than seven hours of drama, culminating in the presentation of awards on Friday.
The 'only known free drama festival in the universe' was well-supported by audiences over the week and organiser Nick Keeble was delighted with how the week went.
"At a time when some festivals are closing or struggling for entries, we were delighted to be able to programme a full week of good quality drama.
"The range of plays, genres and styles was amazing.
Haverhill Town Council
has continued to back this wonderful celebration of drama in the town which creates a real buzz at the
Arts Centre
each year."
Other awards were won by BAWDS from Cambridge who were runners-up with their rumbustuous production of Falstaff's Folly adapted from Shakespeare by Richard Peroni.
The company also won the Frances MacGechan Memorial Star for their Stage Presentation and Richard Sockett was presented with Best Actor for his portrayal of Sir John Falstaff.
The Alan Smith Youth Award was won by Sawston Dramawise for their adaptation of A Midsummer Night's Dream directed by Frances Brownlie.
In a change to regular award ceremonies, trophies were handed over by members of the audience who had attended all five nights of the festival.
The complete list of companies during the week was: Centre Stage Youth (Haverhill), Foxton Vixens, Sawston Dramawise, East Bergholt Dramatic Society, Samuel Ward Academy (Haverhill), Wilburton Theatre Group, Clavering Players, Irving Stage Company (Bury St Edmunds) and Centre Stage Company (Haverhill).
Haverhill Drama Festival is a one act play festival sponsored by
Haverhill Town Council
.

Comment on this story
[board listing] [login] [register]
You must be logged in to post messages. (login now)