MP is opposed to court cash cuts
Thursday, 7th December 2000.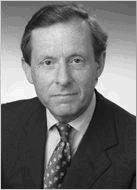 MP
Richard Spring
has written to the Lord Chancellor opposing budget cuts which he said could threten the survival of the magistrates' court system in Suffolk.
Changes proposed in a consultation paper on grant allocation could mean a 27.4 per cent cut to the budget of the Suffolk Magistrates' Court Committee.
Mr Spring believes such a cut would devestate the fabric of magistracy in the county and has been told of concerns from the committee itself.
Mr Spring said it was quite unreasonable for the caseload in a rural area like Suffolk to be compared with an urban area.
"We have seen the devestation of our local criminal justice system in Suffolk with court closures which are deeply damaging to the fabric of our rural communities," he said.
"Ultimately they will impact the recuritment and retention of lay magistrates, who will not wish to travel long distances to court houses."
CAPTION: West Suffolk MP,
Richard Spring
who opposes magistrates cuts.
(Photo courtesy of the Conservative Party)

Comment on this story
[board listing] [login] [register]
You must be logged in to post messages. (login now)