MP joins in with fun
Thursday, 10th May 2001.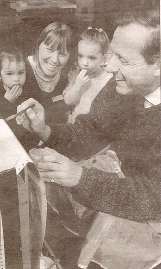 TODDLERS were given a helping hand when
Richard Spring
MP paid a visit to Hamlet Croft Pre-School playgroup.
The MP was shown around by the group leader, Diane Grant, and spent an hour with the youngsters.
The purpose of the visit was to mark the 40th anniversary of the pre-school movement, and Mr Spring took a trip to the Hamlet Croft group to see an example of what has been achieved locally.
He said: "Over the past 40 years community-based pre-schools have played a vital part in young children's early learning, providing them with a sound educational start."
The pre-school group, based in the Old Independent Church Hall, Meeting Walk, runs a toddlers' group every Friday.
Diane said: "I don't think people know we run a toddlers' group, but it gets the children used to coming and invariably they continue and join the pre-school group."
PICTURE CAPTION: Painting time...MP
Richard Spring
and group leader Diane Grant with Denise Crawshaw, aged two, and Finley Brittainm aged three.

Comment on this story
[board listing] [login] [register]
You must be logged in to post messages. (login now)