MP Receives the CB9 Badge
Friday, 2nd May 2008.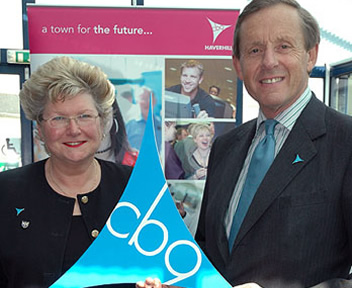 Richard Spring
MP is the first person to receive a special edition CB9 Haverhill badge. Mr Spring was presented with the badge by Anne Gower, Chair of the Havehill Partnership, at a ceremony on Friday 2 May at the council offices in Haverhill.
Cllr Gower said, "I am delighted that
Richard Spring
is receiving the first badge because he is a true champion of the people and Town of Haverhill. He speaks with passionate, well informed authority about our future, as well as campaigning vigorously for the issues currently facing us all. Richard will be raising our profile by wearing Haverhill's emblem in the corridors of power.
"The badges have been struck as a celebration of Haverhill people. The town has been described as a very positive, forward looking place and that is because of its people and their ambitions for the town. We wanted a way to express the faith that people have in Haverhill, whether by acknowledging their continuing commitment or just to say they are happy to live here. This tiny lapel badge is a quiet way of saying we are proud of Haverhill and proud to play a part in its future".
Richard Spring
MP said, "I am honoured to be counted among the many people who make Haverhill special. This badge silently speaks volumes about our pride in our community, our confidence in its future and our appreciation of one another".
More badges recognising the community roles of their recipients will be sent in the coming weeks. They will not be publicised and it is entirely for the individual to decide if they wish to wear the badge...
Anyone who would like a badge for themselves, or to recognise someone special, can contact St Edmundsbury Borough Council, on 01440 702271 or 01284 757061, or email: annabelle.bryant@stedsbc.gov.uk
Click To View the Video >>>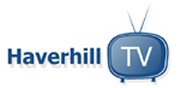 Comment on this story
[board listing] [login] [register]
You must be logged in to post messages. (login now)