Old school takes on its new role
By Jo Deeks on Thursday, 30th September 1999.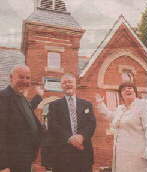 CHILDREN played with skipping ropes at a former Haverhill school one last time as it took on its new role as a housing and training centre.
Pupils of New Cangle Primary School played Victorian playground games as Cangle Junction was officially opened by Canon John Eley.
The former Victorian school has undergone a £3.2 million transformation by the English Churches Housing Group to create a "foyer centre", offering homes and job training for young people.
So far 21 young people have moved in and there is room for eight more.
Richard Spring
MP, Margaret Horbury, Mayor of St Edmundsbury, Angela Millar, Mayor of Haverhill and Mike Brundle, leader of St Edmundsbury Borough Council, were among the guests.
John Eustace, chairman of the English Churches Housing, said Cangle was an important project as it helped young people gain confidence.
A former pupil, 88-year-old Ted Basham, who attended the Cangle School when he was four, said he hoped the young people who lived there would look after it.
Picture caption: Open house . . . from left, Canon John Eley, centre manager Pete Husbands, and Angela Millar, Mayor of Haverhill.

Comment on this story
[board listing] [login] [register]
You must be logged in to post messages. (login now)