ONE Haverhill delivers on apprentices scheme
Tuesday, 4th March 2014.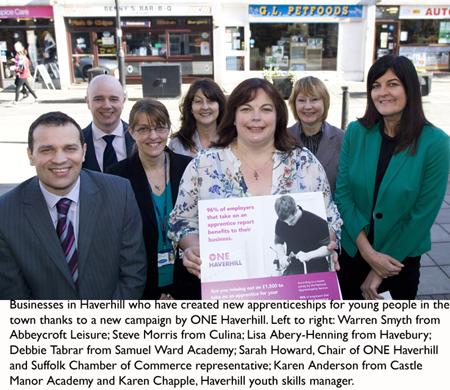 Fifteen new apprenticeships have been created in Haverhill thanks to a new scheme by ONE Haverhill, it was announced today, as part of National Apprenticeship Week.
ONE Haverhill announced it had exceeded its original target for the creation of ten new apprenticeship places in the town in just six months and the success of the initiative has now inspired a new 'Keep Local Young Talent in Haverhill' campaign to create even more.
Working with businesses to help facilitate more apprenticeship opportunities for Haverhill youngsters was one of the key aims of ONE Haverhill's Community Budget Plan launched last year.
The Haverhill Community Budget set out to achieve change for the town initially in two areas - better opportunities for our young people and improving the physical environment in the town, all priorities decided on by extensive community engagement with local residents.
Sarah Howard, chairman of ONE Haverhill Board and the Suffolk Chamber of Commerce representative, said: "Since Karen Chapple's appointment as youth skills manager, she has worked tremendously hard to build good relationships with colleges and businesses in Haverhill enabling us to exceed our target of helping Haverhill businesses create ten new apprenticeships in the town far sooner than we expected.
"This is fantastic news for young people in Haverhill and shows what we can do by working together, a key aim of ONE Haverhill.
"Now we have seen what can be achieved by creating closer links between businesses, colleges and other partners, we want to create more apprenticeship places which is why we are launching our Keep Local Young Talent in Haverhill campaign."
An apprenticeship is a real job with training - you earn while you learn. The following companies have agreed to create more Haverhill apprenticeships: Genzyme (2), Culina (2), Symtech plumbing and heating (1), Havebury (1), Abbeycroft Leisure (1), CXG (1), Essential Nails (2), Castle Partnership Academy Trust (3), PJ W Plumbing (1), and Samuel Ward Academy (1).
The new apprenticeships were announced today at an event to officially launch the Keep Local Young Talent in Haverhill campaign at Haverhill
Arts Centre
as part of National Apprenticeship Week.
The campaign is supported by Job Centre Haverhill, Suffolk County Council and the National Apprenticeship Service.
Businesses, young people from Haverhill's colleges and representatives from the key organisations supporting the ONE Haverhill campaign, including West Suffolk College, were present at the launch.
The news was welcomed by Haverhill'sMP and Minister for Skills and Enterprise Matthew Hancock. He said: "Haverhill has many exciting companies and some of the best are working together as part of ONE Haverhill's excellent scheme.
"There are a record number of people in apprenticeships right now and I think getting another 15 of them working here in Haverhill is a great use of the Community Budget and a real success for the 'Our Place!' scheme.
"These apprenticeships offer 15 young people the chance to do a real job, learn a skill and take the first step on their career path."
Abbeycroft Leisure, which manages Haverhill
Leisure Centre
in partnership with St Edmundsbury Borough Council, is advertising for a swimming apprentice.
Warren Smyth, chief executive of Abbeycroft, said: "We currently have five apprentices in total across all the facilities we manage.
"With Karen and ONE Haverhill's help we are now recruiting for another apprentice, our second in Haverhill, to join our swimming team.
"By taking on apprentices Abbeycroft is gaining passionate young people keen to gain qualifications and experience on the job, vital in our industry.
"We have run our apprenticeship scheme for five years and we are delighted to be joining the campaign to Keep Local Young Talent in Haverhill by expanding our places in the town."
The Castle Partnership Academy Trust is creating three new apprenticeship places.
Karen Anderson, partnership operations manager at the trust, said: "The Castle Partnership Academy Trust aims to support all the young people in our community in whichever way we can.
"The apprenticeship scheme is a fantastic way of extending learning and experience to a new group of young people. We are looking forward to welcoming new apprentices to our team and helping them to develop to make them, and our town, stronger for the future."
Robin Pilley, co-founder of CXG Property Services, said: "Here at CXG we are keen supporters of the apprenticeship scheme and delighted that one of our employees is very near to completing the apprenticeship which has led to a full time job with us.
"We have also recently taken on a second apprenticeship which shows the success of the scheme."
Karen Mayhew, chief executive at Havebury Housing Partnership, said: "Havebury is pleased to be part of the ONE Haverhill Youth Steering Group, responsible for the appointment of Karen Chapple.
"This group recognises the importance of providing opportunities for young people. Havebury is proactive in looking for potential apprenticeships within its own business and so has been delighted to see one young person join it recently as a customer services apprentice.
"Our team really enjoys supporting young people and sharing their expertise and knowledge. We recognise that this is an investment in all our futures."
At the launch event, Joe Winter, from West Suffolk College, spoke about his experience as a former apprentice and how businesses can go about taking an apprentice on.
Chris Jai-Bahadur, director of Morris Armitage, spoke about how apprentices have benefited his business. He runs a successful apprenticeships scheme already across his independent estate agents branches including Haverhill and with him was apprentice and former Samuel Ward Academy student Danielle Eady.
Until the end of the year, companies with less than 1,000 employees can take advantage of a Government grant of £1,500 to assist employers who commit to offering 16-24 year olds employment through an apprenticeships programme.
Companies can take on up to ten apprentices and receive £1,500 per apprentice. The grant is in addition to the training costs of the apprenticeship which are met in full for young people aged 16 to 18 and 50% for those aged 19 to 24.
If you are an employer or a young person who would like further details on apprenticeship opportunities in Haverhill or the Government's Apprenticeship grant contact Youth Skills Manager Karen Chapple for an informal chat on 07877 142000 or email youthskillsmanager@onehaverhill.co.uk.
To be eligible for the grant employers must not have had someone on an apprenticeship in the last 12 months and employ less than 1,000 employees.

Comment on this story
[board listing] [login] [register]
You must be logged in to post messages. (login now)