ONE Haverhill makes it 50 apprenticeships created this year
Friday, 22nd August 2014.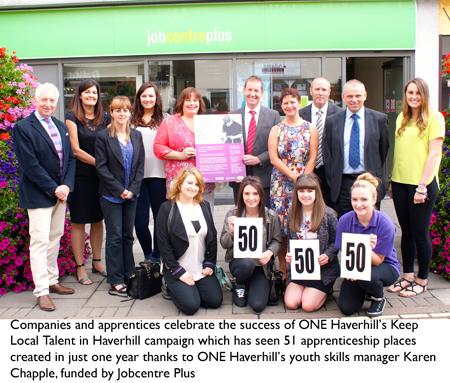 ONE Haverhill has more than tripled the number of apprenticeship places available in companies in and around Haverhill in just four months.
In March, the partnership announced that its youth skills manager Karen Chapple had worked with local companies to set up 15 new apprentices in the town as part of its Keep Local Young Talent in Haverhill campaign.
Now, in just four months since that announcement it has created 36 more, a total this year of 51.
Working with businesses to help facilitate more apprenticeship opportunities for Haverhill youngsters was one of the key aims of ONE Haverhill's Community Budget Plan launched last year.
The Haverhill Community Budget set out to achieve change for the town initially in two areas - better opportunities for our young people and improving the physical environment in the town, all priorities decided on by extensive community engagement with local residents.
The youth skills manager post is funded by Jobcentre Plus and the post is managed by
Haverhill Town Council
.
The following 28 companies and organisations have agreed to create 36 Haverhill apprenticeships in total. In brackets are the number of apprenticeships they will be creating: Fire Security (1), Sanofi (1), Morris Armitage (1), MR Barbers (1), Castle Manor Academy (1), Cowell and Cooper (4), Eaton Engineering (1), Bychoice (1), Imperial (1), Abbeycroft Leisure (1), Haverhill
Arts Centre
(1), Samuel Ward Academy (2), Motor Medics (1), Menta (1), Days Inn (1), Mendmyi (2), Enigma (2), FlipFlop Marketing Ltd (1), Screens At Work (1), Fiscale (1), Package In (2), Suffolk Service Centre (1), Huffers (1), Keronite (1), Herma UK (2), Old Red Lion Horseheath (1), Ipswich Building Society (1) and B&B Flooring (1).
This is in addition to those 15 announced in Haverhill in March at Sanofi (2), Culina (2), Symtech Plumbing and Heating (1), Havebury (1), Abbeycroft Leisure (1), CXG (1), Essential Nails (2), Castle Partnerships Academy Trust (3), PJW Plumbing (1), and Samuel Ward Academy (1).
The youth skills manager has also been involved in supporting and match-making apprenticeship places already created by companies including the Red Lion pub in Sturmer, Haverhill Rovers FC, and the Welding Institute.
Sarah Howard, chair of ONE Haverhill Board and Suffolk Chamber of Commerce representative, said: "Fifty-one apprenticeships have been created in and around Haverhill for local youngsters in just one year.
"We are just thrilled with the progress that Karen has made. This is exactly why ONE Haverhill was set up, as a partnership to bring organisations together to take practical real action in our town to help future generations.
"The figures do not include other apprenticeships that some of the companies that took on an apprentice earlier this year have now gone on to create on their own thanks to the support and advice of our youth skills manager.
"We must also praise our fantastic local businesses in the town who have recognised the value of taking on local talent in Haverhill to help their companies grow.
"Karen makes this happen by advising them and supporting them through the process but the will from the companies has to be there and in Haverhill there is real community spirit and a passion to get on in business."
West SuffolK MP Matthew Hancock, minister for business, enterprise and energy, welcomed the announcement.
He said: "ONE Haverhill has done a brilliant job in facilitating opportunities for local companies to help local people in the town.
"In the last four months in which Haverhill's apprentices have tripled, youth unemployment has fallen by 23 per cent. Long-term youth unemployment fell by a further 37.5 per cent between April and July 2014.
"I am delighted that local businesses are taking advantage of talented young people and pursuing the opportunity for business growth by employing apprentices."
Companies with less than 1,000 employees can take advantage of a Government grant of £1,500 to assist employers* who commit to offering 16 to 24-year-olds employment through an apprenticeships programme.
Companies can take on up to ten apprentices and receive £1,500 per apprentice. The grant is in addition to the training costs of the apprenticeship which are met in full for young people aged 16 to 18 and 50 per cent for those aged 19 to 24.
Karen said: "I have been so encouraged and really inspired by the companies in Haverhill that I have visited.
"They see taking on a local apprentice as a great benefit and asset to their business. I live here in Haverhill and I get stopped by youngsters in the town who need help or who want advice and I find it so rewarding.
"ONE Haverhill really is doing something so worthwhile here in Haverhill for future generations."
An apprenticeship is a real job with training - you earn while you learn.
Emma Conroy, 18, from Cangle Junction, who was offered an apprenticeship as a centre assistant at Haverhill
Arts Centre
, said: "I had moved back to Haverhill and was living in a supported housing scheme when I met Karen.
"I didn't have any qualifications and had to support myself. With Karen's encouragement I signed up to do the Prince's Trust TEAM programme which develops work skills and I had two weeks' work experience at the
Arts Centre
.
"They were looking for an apprentice and I'm now studying for a hospitality qualification with West Suffolk College while earning. It has given me so much confidence and has completely changed my life. It has given me a reason to get up in the morning."
Elaine Carr, of FlipFlop Marketing Ltd, who has taken on an apprentice, said: "I had been considering having an apprentice to work with me for quite some time but hadn't progressed the idea because I thought it would be too complicated to organise and to find the right person.
"I finally decided to set up a meeting with Karen to explore the options. I couldn't believe how simple the process was and was absolutely thrilled when Karen found a student from Castle Manor Academy who was perfect for my very varied job role.
"If this is something you have been thinking about for some I suggest you get in touch with Karen - she has a real knack for match-making!"
Stephen Bunting, technical director at Fiscale, said the support Fiscale had received had been invaluable. He said: "It's been invaluable in helping us to understand the apprenticeship system, establish contacts with West Suffolk College and find a suitable local apprentice."
If you are an employer or a young person who would like further details on apprenticeship opportunities in Haverhill or the Government's apprenticeship grant contact Youth Skills Manager Karen Chapple for an informal chat on 07877 142000 or email youthskillsmanager@onehaverhill.co.uk.
*To be eligible for the grant employers must not have had someone on an apprenticeship in the last 12 months and must employ less than 1,000 employees.

Comment on this story
[board listing] [login] [register]
You must be logged in to post messages. (login now)