Packed programme announced for Haverhill Festival
Monday, 24th May 2010.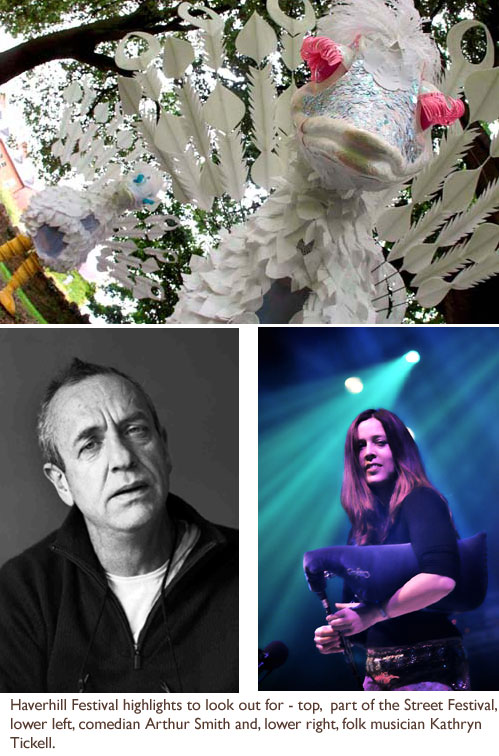 Haverhill Town Council
this morning announced the programme for the 21st annual
Haverhill Festival
.
As ever it combines a host of music, films, comedy, sport, historical and dance events, according to the council's arts and leisure manager Nick Keeble.
"The
Haverhill Festival
is about bringing nationally recognised names alongside free events that aim to bring the community together," he said.
"I am proud to say longstanding events like The Last Night of the Festival Proms and the Haverhill Historic Walks are as popular as ever and that this year we've got stars such as The Kathryn Tickell Band and comedian Arthur Smith coming to the town."
Kicking off the festival on Saturday, June 19, is a trio of musical events. First up is a Harmonica Workshop at the
Arts Centre
. Whether you are a beginner or have a few tunes under your belt this workshop will help with your pop and blues playing.
Arrive as 11am for some expert tuition by wizard Steve Lockwood, who says it's a lot easier to learn than it looks! If you don't have a harmonica you can buy one on the day.
Next afternoon Haverhill Silver Band will fill the air with the sounds of their of old favourites at a free concert in the Market Square and day one of the festival closes with the Buddy Holly Tribute, Rave On at the
Arts Centre
at 7.30pm. Marc Robinson and the Counterfeit Crickets channel Buddy's rock 'n' roll energy and Michael King also performs as the British rock 'n' roller, Billy Fury.
Other musical treats include Arnold Sinfonia's Guitar Recital with Andrew Booth. Andrew's recital features a selection of music, including jazz arrangements and light classics, perfect for a summer's evening at the
Arts Centre
on Sunday, June 20, at 7.30pm.
Perennial favourite of the keyboard world Robert Wolfe returns to Haverhill as a guest of the Haverhill Keyboard Club on Tuesday, June 29, at 7.30pm.
Kathryn Tickell, one of the current stars of the folk scene, champions the music and traditions of the North East. She started playing the Northumbrian smallpipes at the age of nine and by the age of 13 had also made a name for herself as a fiddle player.
As well as creating her own critically-acclaimed work she's recently worked with Sting on his album If On A Winters Night. The Kathryn Tickell Band plays the
Arts Centre
on Friday, July 2, at 8pm.
This year there's some great festival comedy lined up. Phil Cool is back with his controllable rubber face, and he's not afraid to use it.
Phil's dextrous impressions, (morphing from international celebrity to intergalactic alien), and surreal comic sketches make him one of the most original comic talents to come out of the UK. His show is at the
Arts Centre
on Friday, June 25, at 7.30pm.
The witty and multi-talented journalist, broadcaster, cook, author, and contributor to Radio 4's Thought For The Day and Today programme, Rabbi Lionel Blue, will delight people from all religions, and from none, with his stories, observations and gentle humour on Sunday, June 27, at 8pm.
He may be a Grumpy Old Man but the unconventional Arthur Smith has never been anything less than entertaining. The stalwart of Radio 4, QI and a host of other comedy shows pops to Haverhill as part of his national tour on Wednesday, June 15, at 8pm. Expect hilarity, mirth and scandal with a dose of rudeness thrown in for good measure.
Families and young people can look forward to a host of events organised with them in mind.
On Saturday, July 3, the Haverhill Street Festival returns with a rolling programme of free entertainment - with a large helping of silliness.
Look out for a gigantic bird of paradise, stilt walking pirates, juggling with the biggest balls you've ever seen, a game of tennis with one very posh umpire, slow motion replays and tantrums, plus a show in which the performers pack 25 shows into 25 minutes including a manic mixture of fire-eating, bed of nails, magic and escapology.
The Haverhill Street Festival takes place in Haverhill town centre between 11am and 3pm.
Children, parents and grandparents, get ready to be blown away by the spectacular Master Drummers of Africa on Thursday, July 1. With their ancient instruments the orchestra creates music that comes from the belief that everything we do comes from the rhythm of the heart. It will celebratory, spiritual, loud, and utterly compelling! The show starts at 7pm.
Make your way down to the Market Square on Saturday, June 26, from 10.30am when the Streetball Extreme Basketball crew are joined by best free-stylers from football and BMX to bring you free demos, games and loads of fun.
If you are aged 12+ you can register a team of three to take part in the tournament. The only requirement for entry is suitable clothing and footwear.
Showcasing a series of films created by young people is Made In Haverhill. It takes place at the
Arts Centre
on Thursday, June 24, at 7.30pm and entry is free.
Dance fans will appreciate the The Swinging Chandeliers who play boogie woogie, jump-jive and swing tunes as they promote their mission to'keep the dance floor jumping' at the
Arts Centre
on Saturday, July 3, at 8pm.
Dance East's Introduction To Lindy Hop workshop is led by the highly experienced Temujin Gill of the Jiving Lindy Hoppers. No previous knowledge, or partner necessary, just enthusiasm and comfortable clothes and shoes. The workshop starts at 11am on Saturday, July 3.
Special festival films include the Technicolour classic The Red Shoes (U). Enjoy the digitally re-mastered classic on Monday, June 21, at 7.45pm.
The following Monday,June 28, at 7.45p) Lourdes (U) is screened. Winner of numerous awards at the 2009 Venice Film Festival it is the story of a young wheelchair-user who embarks on a pilgrimage. Lourdes is in French, German and Italian with English Subtitles.
You can find out about the range of plant and insect life in West Town Park with the St Edmundsbury Park Rangers' Wildlife Oasis. For this free event, meet at the park gates on Tuesday, June 22, for a 7pm start.
Haverhill and District Local History Group present Haverhill in the 1500s, a fascinating walking tour on Monday, June 28, at 7pm in which participants can learn about the origins of the town. Please book in advance for this free talk by calling the
Arts Centre
.
Haverhill Operatic Society and Haverhill Silver Band have joined forces to organise a rousing Last Night of the Festival Proms at the Old Independent Church at 7.30pm on Sunday, July 4. Expect hat-flinging, flag-waving favourites to wave the festival goodbye – until next year that is.
For tickets and further details go to www.haverhillartscentre.co.uk or call the
Arts Centre
box office, 01440 714140
All events are at Haverhill
Arts Centre
unless otherwise stated. The management reserve the right to change the advertised programme.

Comment on this story
[board listing] [login] [register]
You must be logged in to post messages. (login now)