Paramedic will be on hand
By Helen Popper on Thursday, 12th August 1999.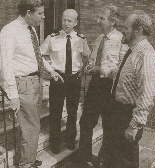 A PARAMEDIC will be on call 24 hours a day as part of new measures to boost the level of cover in Haverhill.
The paramedic move was announced at a special meeting which was called as part of plans drawn up to improve the performance of the town's troubled emergency ambulance service.
Haverhill MP
Richard Spring
met bosses at the East Anglian Ambulance Trust to thrash out necessary improvemnets to the service,
The town's service is still failing to meet the minimum levels set out in the patient's charter.
From next month, a fully trained and equipped paramedic will be able to respond to 999 calls from the public round the clock on top of the existing cover.
And the service will also be trying to re-deploy ambulances so they are closer to areas with the highest call out rates.
Mr Spring welcomed the plans, which will come into effect on September 13 for a six-month trial period.
"I think things will improve and these are measures that we have called for," he said.
"The evidence from pilot schemes has been very compelling and they have stressed to me that theis paramedic is not a substitute but a complement to existing cover."
The latest figures to be released show that 93 per cent of calls are reached within the target time of 19 minutes.
However, this is below the national recommended level of 95 per cent.
A spokesman for East Anglian Ambulance Trust said: "This is one of a number of ways of getting to people quickly.
"One of the problems at the moment is that when the Haverhill ambulance is called out, the town is left exposed.
"We are trying to acieve better response times, which are crucial in life-threatening situations."
He also said he was "very worried" about the possible effects of health service cuts next year.
Suffolk Health Authority is facing an £8 million deficit next year and fund cuts are inevitable - though no decisions have yet been taken about where and how cuts will be made to services.
But Mr Spring said: "I'm afraid that everybody is going to be impacted by this."
Picture caption: More cover . . .
Richard Spring
meets ambulance chiefs Frank Harradence, Andrew Egerton-Smith and John Ashbourne.

Comment on this story
[board listing] [login] [register]
You must be logged in to post messages. (login now)