Part of Haverhill's lost heritage on display
Thursday, 7th January 2010.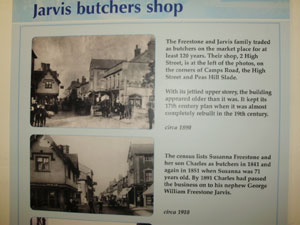 An exhibition highlighting the lost commercial buildings of Haverhill has just opened at Haverhill
Arts Centre
.
Haverhill and District Local History Group, along with St Edmundsbury Council museums service, have put together a series of panels of pictures and information about a variety of commercial buildings in the town which have been demolished.
These range from long-lost structures like the Isolation Hospital at the top of Clements Lane, the Workhouse along The Pightle and the Infirmary behind Queen Street, to such recent losses as the Hovis Mill demolished to make way for Tesco's entrance.
Haywards, Burtons and Jennings garages are featured as are three windmills and the Old Rope Walk.
The exhibition was officially opened last night at a preview by the society's president, Christopher Gurteen.
He told society members they had done a fantastic job in putting the exhibition together.
"This is very poignant for me," he said, "because it's about my era, the 50s, 60s and 70s, and I can remember most of these buildings.
"Some of them meant so much to me. One was Hayward's Garage, a lovely garage which I remember very well. My first car was a 1936 Morris Series E and I bought it at Haywards Garage for £50.
"I think it is wonderful for townspeople to see pictures of all these buildings."
Cllr Anne Gower, St Edmundsbury Council's portfolio holder for Haverhill, said she found it a very exciting exhibition as she was seeing most of the buildimngs for the first time, having only come to the town eight years ago.
"This is a very forward-looking town, but what is so nice is to see that we cherish our heritage," she said.
"It's good that now people are taking much more notice of commercial buildings."
The exhibition is open daily in the bistro at the
Arts Centre
.
* Our picture shows one of the display panels, featuring Jarvis' butcher's shop, which used to stand on the junction of High Street and Camps Road.

Comment on this story
[board listing] [login] [register]
You must be logged in to post messages. (login now)