Play is sure to go down a storm in the open air
Friday, 23rd July 2010.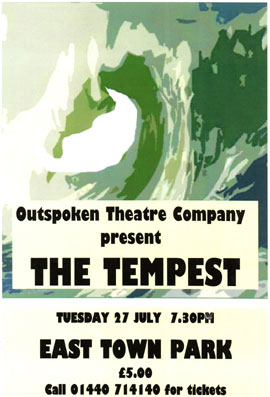 One of Shakespeare's best-loved plays, The Tempest, comes to Haverhill in an outdoor production next week.
Outspoken Theatre Company, who have been performing Shakespeare plays around the area in the summer for the past nine years, will be presenting the play at
East Town Park
on Tuesday evening, starting at 7.30pm.
Steve Powter, winner of the best actor award at this year's Haverhill Drama Festival, stars as Prospero, the exiled magician who gives up his powers, and who many see as Shakespeare's portrayal of himself in this, his last complete play before he retired.
Director David Hart has set the play in the 1930s where we find Prospero has been ousted from his company and marooned on a desert island with his little daughter.
But he has studied magic, and 12 years later, when those who replaced him are passing by in their luxury yacht, he conjures up the tempest which wrecks them and casts them ashore on his island, to be the helpless victims of his revenge.
The cast includes Outspoken Theatre stalwarts Steve Murray as the primitive islander Caliban, Emily Mizen as Prospero's daughter Miranda, Catherine Keeble and Jane Baillie as the villains Antonio and Sebastian, and Tina Cronin as Prospero's magic spirit Ariel.
The performance is part of
Haverhill Town Council
's Summer In Haverhill programme and tickets at £5 and available on the gate or by contacting Haverhill
Arts Centre
box office. Bring your own seating and picnic if you wish.
If you cannot manage to see The Tempest on Tuesday, you can catch it at Hundon Plough the next night at 7.30pm, or at Hildersham Churchyard on Saturday at 6.30pm.

Comment on this story
[board listing] [login] [register]
You must be logged in to post messages. (login now)