Police Appeal To Track Down Stolen Wheelchair
By Jo Deeks on Thursday, 21st July 2005.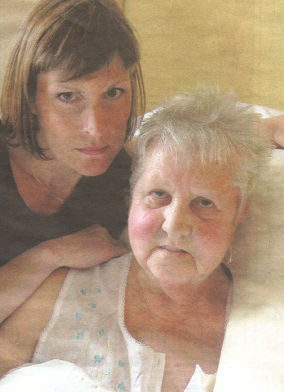 Cruel thieves stopped a terminally ill woman from enjoying a rare outing after stealing her wheelchair from outside her home.
Phyliss Mumford, 74, has breast cancer and secondary cancer and is not expected to live for much longer.
Her family came to take her out to
The Haverhill Show
to see one of her grandson's friends performing in a dance group, only to discover her wheelchair had been taken from the driveway of her home in Wratting Road, Haverhill.
Jackie Mumford, a Haverhill police officer, said her mother-in-law had been very upset by the theft, although Sainsbury's store had come to her rescue by loaning a wheelchair free of charge so that she could enjoy the later part of the show.
Jackie said: "I have not been so sickened for a long time. I cannot believe anyone would be so cruel as to do such a wicked thing. A wheelchair is not a garden ornament, it is there because someone needs it and relies on it to get about. This one was on loan from St Nicholas Hospice and the only place I could think of to get one on a Sunday was Sainsbury's and they were brilliant. It really put a damper on the day, my mother-in-law was very upset and the last thing she needs is any additional stress at the moment."
A police spokesman urged anyone with any information to come forward.
He said: "This is a particularly despicable offence which left an elderly lady immobile. It may have been taken as part of a drunken joke, but we would hope that the offenders have a conscience and return the chair or contact police with some information."
The theft happened between 5pm on Saturday, July 2nd and 10.55am on Sunday July 3rd.
A blanket that was on the chair was found at the junction of Chalkstone Way but to date the chair has not been located.
Police would like to hear from anyoine who witnessed suspicious activity in the area, has information or who has seen the chair dumped in or around Haverhill, to contact Pc Clair Burgess on (01284)774100

Comment on this story
[board listing] [login] [register]
You must be logged in to post messages. (login now)