Project site plan could bring hundreds of jobs
Friday, 26th March 2010.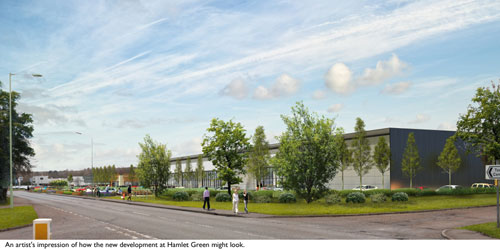 A retail complex providing hundreds of jobs could be created on the former Project site in Haverhill, although it has a series of planning hurdles to overcome first.
Cambridge-based HPG Developments Ltd wants to breathe new life into the 6.5-acre site in Ehringshausen Way.
To be known as Hamlet Green, it would be a mixed-use development aimed at regenerating a key gateway site into the town centre, vacant since Project's successor Workspace Office Solutions ceased operation in 2007 and was demolished.
To the rear of the site, there would be new warehousing and business start-up units, while towards the front of the site there are plans to deliver a new builder's merchant, a new family restaurant and four shops,as well as car parking.
Development director at HPG Developments Ltd William Jewson said: "Hamlet Green will not only bring this vacant site back into use, but it will help to enhance the regeneration that has already taken place in this part of Haverhill.
"Hamlet Green will provide a great mix of new employment space, including units that are ideal for start-up businesses locally, plus retail space that will attract new brands into Haverhill that would complement, rather than compete with, the town centre.
"With high quality buildings, employment opportunities, new landscaping and other enhancements, we're confident that Hamlet Green will support the existing initiatives and aspirations for the town centre as a whole."
HPG are already in discussion with 'at least four' potential clients for the shops, their spokesman Will Kitchener said today (Friday). These would be bulky goods retailers such as carpets, furniture or possibly white goods.
They would expect to discuss a restriction on what goods could be sold on the site, because they were not aiming to compete with the toiwn centre.
"These occupiers would not normally be in th High Street because they need immediate car park access for bulky goods," said Mr Kitchener.
Comparison shopping was being lost from Haverhill into other towns in the area, he said.
"People want more than one store to look at - that's what comparison shopping means, and if they don't have that chance they go to other towns.
"There is a lot of leakage from Haverhill to other places, and then people decide to use other services in those towns as well.
"This proposal is all about clawing back that comparison shopping loss and getting people to stay in Haverhill."
Exhibition panels highlighting the plans will be erected in the foyer of the Tesco superstore in Haverhill from Wednesday, March 31 to Saturday April 3.
On Saturday afternoon the exhibition panels then transfer to Haverhill
Arts Centre
until Saturday, April 10.
The development team will be distributing a leaflet to homes in the vicinity shortly.
In the meantime, for further information about Hamlet Green, you can email: hamletgreen@hotmail.co.uk or call Will Kitchener on Tel: 020 7839 5403 or Lucy Pond on Tel: 020 7839 5400.
Mr Kitchener said everything that came up in the consultation would be considered, including any fears from traders in the town.
However, the plan's biggest hurdle is likely to be St Edmundsbury Borough Council's planning department which has not initially taken a favourable view of it.
The land is not allocated for retail in the Local Plan, and councillors have in the past said the site should only be developed for industrial use.

Comment on this story
[board listing] [login] [register]
You must be logged in to post messages. (login now)