Prospective new MP pays town a visit
Tuesday, 9th February 2010.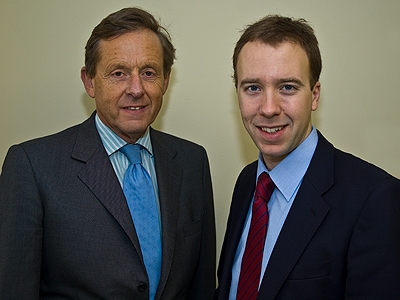 The new prospective parliamentary candidate for the Conservatives for the West Suffolk constituency paid a visit to Haverhill on Friday.
Matthew Hancock (pictured, right) accompanied the current MP
Richard Spring
(left), whom he hopes to succeed at the approaching general election, to various meetings and presentations during the day.
After their meeting with ambgulance chiefs at the ambulance station in the morning they went on to Castle Hill Middle School in the afternoon where they met two of the year eight pupils, Shiana Trunks and Paris Symonds, both 12, who have won the Diana Anti-Bullying Award, a national award set up in memory of Princess Diana.
Shiana and Paris became interested in anti-bullying as a result of a school project for National Anti-Bullying Week.
Following that, Shiana and Paris were nominated for the award and they won – much to the school's delight.
Since then the girls have both become prefects, buddies helping other pupils at the school and representatives for not only Castle Hill Middle School but also the community.
Shiana and Paris also presented assemblies at other primary schools during last year's National Anti-Bullying Week.
Before his meeting with them, Mr Spring said: "This is a really important award and one which reflects the caring ethos at Castle Hill Middle School.
"Bullying can make someone's life a misery and anything that raises awareness of the problem and helps to eliminate it is to be greatly welcomed. My congratulations to Shiana and Paris!"
Mr Hancock also accompanied Mr Spring when he took the opportunity during the day to present a cheque to the West Suffolk Voluntary Association for the Blind.
The money was a fee earned by Mr Spring for taking part in a parliamentary survey.
Haverhill resident, Peter Brown, a long-standing, visually-impaired member of West Suffolk Voluntary Association for the Blind, accepted the cheque on behalf of the Association.
Peter is a stalwart supporter of the association and regularly volunteers to collect at their store collections in the area. Quite recently, he has also tried his hand at sailing.
Later in the day, Mr Spring held an advice surgery for his constituents in the town.

Comment on this story
[board listing] [login] [register]
You must be logged in to post messages. (login now)