Protesters queue in rain to sign arts petition
Thursday, 14th December 2000.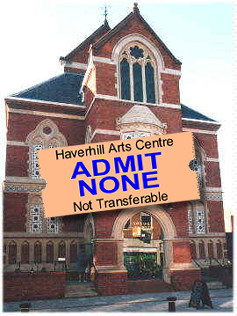 PEOPLE queued up in the pouring rain for the chance to sign a petition to save Haverhill's
Arts Centre
during the town's late-night shopping event.
An
Arts Centre
Action Group has been formed and more than 350 signatures were added to its petition in a couple of hours.
More are expected as the campaign against cuts proposed by St Edmundsbury Borough Council gets into full swing.
David Hart, chairman of the Centre's Programming Advisory Committee, is calling for a public meeting to be held in the town early in January.
He said people were very angry at plans to cut back theatre and cinema shows to save money to try to stave off a Leisure Services overspend of more than £400,000.
He said: "Everyone has been incredibly supportive. People waited quite a long time in the rain to sign it. We need to mobilise the public. We are going to continue putting forward the view that they are not going to save anything like the amount of money they think by axing the arts programme."
Phil Stainer, Great Wratting parish council chairman, has written to Chris Smith, the Culture Secretary, in protest at the cuts, which he says would hit villagers around the town even more.
Mr Stainer said: "Bury St Edmunds has numerous other facilities but this is all Haverhill has got. We have to book up weeks in advance because so many things sell out. There was not a seat left last week for Billy Elliott. What kind of management is it that sells out every night and still loses money?"
Steve Palframan, director of Leisure Services for St Edmundsbury, said he would be checking with council leader Derek Redhead and Leisure Committee chairman Sarah Mildmay-White to see when they could all attend a meeting in Haverhill.
A decision on the
Arts Centre
funding will be made on January 17. Revised estimates were being prepared for
Haverhill Town Council
, so it could make a new bid to run the centre.
If this failed, it was possible the council could reconsider an offer made by another organisation in the early days of the centre to take over its management.
Mr Palframan said: "I hope we can reach agreement. If the town council is able to save the borough council money, it makes a lot of sense for it to take over. We do have to make savings across the borough."
Anyone interested in gathering signatures on the petition or supporting the campaign can ring (07884) 030165.
Click the Web Icon above to sign the petition whcih will be presented to the Borough Council in the New Year.
(The
Arts Centre
petition is a Haverhill UK feature and not associated with the Haverhill Weekly News)

Comment on this story
[board listing] [login] [register]
You must be logged in to post messages. (login now)