Putting Haverhill on the Map
By East Anglian Daily Times on Monday, 5th September 2005.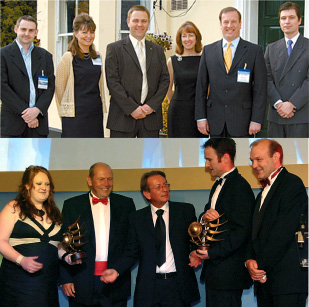 Regular readers of Suffolk Business magazine cannot have failed to notice that there is something stirring in the west of the county. Still in its infancy and yet able to pull off a Hollywood style awards ceremony with the backing of multinational companies, Haverhill Chamber of Commerce and Industry has arrived. Sheline Clarke went to talk to its founding members.
HAVERHILL is having something of a renaissance. What was once considered a 1960s overspill town has developed into a hotbed of industry and commerce. Big names such as Genzyme and Sigma Genosys have grown up amidst smaller business is helping to provide a unique mix of activity.
Such is the enthusiasm and drive within the business community that when the idea of resurrecting the local Chamber of Commerce was floated, local business leaders lined up to offer their support and more than 100 people supported its inaugural meeting back in April 2004. Since then membership has snowballed.
So what's the secret?
Elaine Collins, director of Gold PR and vice chairperson of the chamber believes it has successfully filled a gap in the local business community, and has done so with such enthusiasm that it has developed an energy all of its own.
She believes it has captured the spirit of change within the town and has become voice for local business.
"When we (Elaine and her sister Charmaine Symonds)started Gold two years ago there was no chamber and nothing like it. There was no support group or any opportunities to get out there and meet other businesses. Luckily, others we met also felt there was something missing."
Early cohorts and now key members of the chamber were Paul Dunno of Paul Dunno and Co accountants who chairs the chamber, Steve Abbott of JCS Computers who acts as secretary and Jason Fitzpatrick of
Pure Energy Multimedia
, membership coordinator and the man responsible for the chamber's superb website, something that
Elaine feels was central to generating early interest in the chamber.
She said: "We all agreed that there was a need for networking and business support opportunities but we wanted it to be more than that."
After seeking guidance and advice from Suffolk Chamber of Commerce the decision to launch the chamber was made and Elaine and the team set about raising awareness and enlisting support.
"We went at it with lots of energy," she said, "and found that we were getting the right reaction and were able to get other people's enthusiasm going too. It felt like the more established businesses were ready for it to come round again, while the newer ones were excited about what a benefit that kind of organisation would bring and that they would have the opportunity to meet others in a similar circumstances to themselves. And that also brought a good mix of younger people with loads of energy and more established businesses with their experience and wisdom.
"I think Haverhill had something of a stigma about it, and that is hard to shake of, but we have decided to do something very positive to help change that."
In pursuit of that the team were not interested in low key meetings and second class events. From the start they wanted their chamber to have a "wow" factor.
They wanted first class venues and 'A' list speakers, a sophisticated website and a showcase event to complete their year.
The chamber chose the Woodlands Hotel as the venue for most of its events and set about attracting speakers who really had something to say to local businesses. These have included
Richard Spring
MP who outlined his hopes for Haverhill and his delight at the initiative local businesses had taken in re-establishing a chamber. He added that he thought Haverhill had been "an orphan for far too long".
Next came Mike Dawson, corporate director of St Edmundsbury Council who was grilled about the future of the town centre and soon after Paul Bird, a director of Carisbrooke, developers of the Haverhill Business Park who was able to talk about future plans for the park. He said that the relocation to Haverhill of specialist fuel storage tank manufacturer Terence Barker Ltd from Braintree and Percy Dalton's famous peanut factory from East London were examples of how Haverhill was attracting solid business investment.
Others have included Rev Malcolm Hill of the Cambridge to Sudbury Rail Renewal Association and Mark Pendlington of BAA Stansted, who spoke on the proposals to expand the airport and build a second runway, focussing on the benefits to the local economy and the desire to work with local businesses. Haverhill like Stansted, he suggested, sometimes had to fight to overcome an undeserved negative image.
Unsurprisingly such events and speakers were well supported and Elaine and the team had a good base to launch their pièce de résistance, the Haverhill Business Awards.
She said: "We felt that the time had come for the spotlight to be turned on Haverhill's business community to recognise and celebrate the enormous amount of talent, expertise and enterprise that exists within the area and on which the town's future success and prosperity are dependent. In the past, public acknowledgement of business excellence and accomplishment has frequently been understated and local companies have been modest in drawing attention to their achievements. They have also lacked a suitable platform. The Haverhill Chamber Business Awards were designed to change all that."
To take them to the level they had set themselves, the team needed sponsors. So they went out and got them. With 12 categories ranging from small business to environmental awareness, employer of the year to marketing strategy of the year, they needed financial backing and some wellrespected names to give them clout. And once again they pulled off something of a coup by welcoming on board Genzyme, BAA Stansted, Lloyds TSB Corporate, Natwest and Barclays alongside Vive FM, Grampian Country Foods and Sigma Genosys. There was also room for home grown businesses and smaller players, once again achieving that all important mix, among them Haverhill Business Park, Risk and Safety Solutions, Neptune Spas and Pools and IFF. completing the line up. As if that wasn't enough they also managed to secure the blessing of telecoms giant BT, which sponsored the launch event.
Once the sponsors were in place so came the task of planning the event.
"It was exhausting," said Elaine, "in the last few weeks we were working at it full time and more and more people got involved. But looking back we wouldn't change anything. That was the goal, to make it a really excellent, first class event, and that takes a lot of work.
"We were all agreed that if we were going to do it then it had the be the best. We wanted to showcase Haverhill and show the rest of the region how good it is so we had to set high standards. I think people thought it would be very 'town hall' when in fact it was more 'Hollywood' it was so glitzy.
"It was great to get the big America companies on board and the banks, but we also made room for the smaller companies and we have people lining up for next time."
Next time, however will not be for another two years. The team are taking a well-earned break over the summer and going back to their businesses.
But that is not to say there isn't a packed agenda for the new voice of business in Haverhill. There's the dilemma of what to do with the town centre and pressure to develop business parks on its perimeter. Then there are transport issues and residential development, securing the funding that is up for grabs and generally capitalising on the enthusiasm and excitement that the chamber has inspired – to keep the momentum going in favour of local businesses.
Said Jason Fitzpatrick: "Haverhill is on a turning point, both businesswise and in terms of its population. There's the development of the town centre and the business parks being built up – and we've got big companies itching to get involved in future development on the business side of town.
"We are within 20-25 minutes of Stansted and a CB postcode which is attractive to businesses as it associates them with the cluster of hi tech and drug companies around Cambridge. What is even more important is that we have the land to accommodate them. The new business park will also have a hotel, which is something business people want, and hopefully will encourage big companies in. There is lots of interest because there is lots happening, and it is happening fast."
St Edmundsbury Council, for example, has earmarked £10million to improve the town centre, with the chamber (along with other bodies such as Haverhill Enterprise)playing a key role in bridging the gap between council and town in forming an opinion on how the money should be spent.
"There has to be a balanced view on how we should spend that money taking into account the spread of opinion that exists," said Jason.
"Having said that, we are also aware that you can talk too much while other towns are taking council money because they are able to make a quick decision. It's about striking a balance."
"There's a good spirit in Haverhill," added Elaine. "The businesses we have seen want to be involved and are happy to rally round – we haven't heard any negatives and that is a great basis for what we are doing."
© East Anglian Daily Times

Comment on this story
[board listing] [login] [register]
You must be logged in to post messages. (login now)