Residents leap to defence of arts centre
Thursday, 11th January 2001.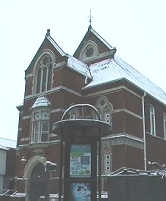 SCORES of angry Haverhill residents packed the town's
Arts Centre
on Monday night to oppose plans to reduce its arts programming.
Allegations of mismanagement were levelled against St Edmundsbury Borough Council, which plans to cut live performances at the centre to help reduce a projected £400,000 deficit In its Leisure Services budget
Council leader Derek Redhead said the only way to keep the centre in its current form was through a new partnership, but described
Haverhill Town Council
's offer to run it for a £202,000 annual grant as "nonsense" and a "non-starter".
He said the town council should charge residents an• additional precept to pay for the centre.
But Alan Smith, chairman of the town council's Leisure Services Committee, said they had been trying for 18 months to reach agreement to take over the running of the centre.
They were not prepared to add to Council Tax bills, which would mean people were paying for the centre twice, he said,
The Theatre Royal in Bury St Edmunds received an annual subsidy of £8O,000 a year, but the
Arts Centre
did not get a
penny, he added.
David Hart, chairman of the centre's Programming Advisory Committee, said the proposed programming policy was "a recipe for disaster" and predicted the centre would lose so much money it would be forced to close within months.
Howard Lay, head teacher of Samuel Ward Upper School, said: "You ignore Haverhill at your peril. This town has a right to have an
Arts Centre
. it has a right to be represented culturally."
Sara Mildmay-White, chairman of St Edmundsbury Leisure Services, denied that Haverhill was being singled out, and said cuts were being made across the borough
Leisure Committee members will meet on January 17 to discuss the fate of the
Arts Centre
.
For further information visit www.haverhill-uk.com/admitnone by clicking on the web link above.
E-Mail Link: admitnone@haverhill-uk.com


Comment on this story
[board listing] [login] [register]
You must be logged in to post messages. (login now)