Shoppers asked to call on their MP to save the pound
Thursday, 25th November 1999.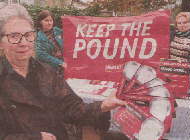 SHOPPERS in Haverhill were asked to write to MP
Richard Spring
to get his views on Europe.
Members of the Democracy Movement handed post cards out in Haverhill town centre.
The group handed out 5,000 specially-dedicated post cards as well as campaign leaflets as part of a national campaign targetting 125 MPs.
Local organiser Doreen Lee said their members got a good response from the public in Haverhill.
"These people are supposed to represent us, but they are not representing us at all, they are doing as they are told. It is going to get worse in Europe, there is no way we can vote them in or out, they are becoming more and more distant," she added.
The Democracy Movement is an all-party campaign led by Yorkshire businessman Paul Sykes, which supports Britain keeping the pound.

Comment on this story
[board listing] [login] [register]
You must be logged in to post messages. (login now)