Stars shine on a new platform
Tuesday, 13th April 2010.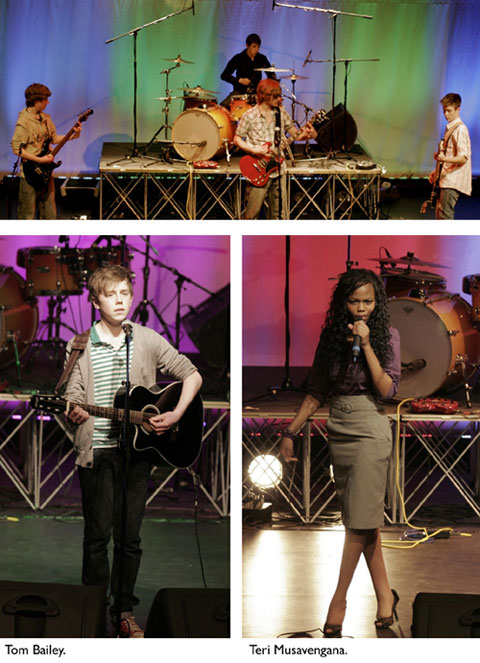 Samuel Ward Arts and Technology College has run an annual Stars In Their Eyes event for many years, providing a platform for the wealth of talent in the school, ranging from solo singers and instrumentalists, duets, live bands and dance acts.
This year, parents and friends were able to watch some of the performers from all years in the school at their best on the stage of Haverhill
Arts Centre
, ably supported by the full technical team there.
Nearly 40 students performed 26 musical numbers, compered by Steve Watts. The opening number set the pace for the rest of the show Ė Geena and Charlee Strowger performing My Strongest Suit by Aida.
Every performer rose to the occasion with very professional performances, but particular credit should go to Rowen Brittain as Lady Gaga and Teri Musavengana giving an awesome rendition of the Glee Clubís Somebody To Love.
There were very moving performances from Tom Bailey singing REMís Everybody Hurts with Jacob Willmore on guitar, and Chloe Groom accompanying herself on guitar with Katy Perryís Thinking Of You.
Charlotte Kowalski gave lively and entertaining performances of All That Jazz and Donít Stop Believing with Rowen and Grace Ash respectively.
Bands played numbers by Nirvana, Arctic Monkeys, and You And Me At 6, and there were even Brenton Mattheus and a year 11 band performing their own songs.
This was an evening of widely varying musical styles, and with the
Arts Centre
over two-thirds full, the atmosphere was fantastic. Letís hope that next time we have a full house!

Comment on this story
[board listing] [login] [register]
You must be logged in to post messages. (login now)