Suffolk Speaks to Government
Wednesday, 11th February 2009.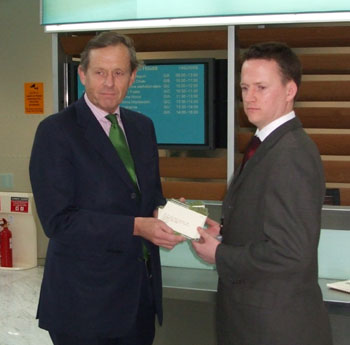 Member of Parliament for West Suffolk,
Richard Spring
MP has taken the views of Suffolk residents straight to Westminster; delivering postcards that ask Secretary of State Hazel Blears to LISTEN TO US.
A first batch of 200 postcards, completed by Suffolk residents, was delivered today by Mr Spring to Steve Evison at the Department for Communities and Local Government. The postcards asks Hazel Blears to "help empower our local communities… by telling the Boundary Committee to fully consider the business case for three separate unitary councils in East Suffolk, West Suffolk and the Ipswich area".
Speaking after the decision to delay the announcement of preferred options for local government in Suffolk by five months, Mr Spring believes that the process thus far has been flawed and advocates abandoning the local government review. However he strongly believes, should Boundary Review continue, that the three-unitary option is the best available arrangement.
He said: "These postcards show the Secretary of State how badly the Boundary Committee has got the Suffolk review wrong so far and I hope that she will instruct the Boundary Committee to look specifically at an Ipswich/East/West arrangement, but only if the no-change solution is rejected."
He went on: "Having seen NHS reorganisations, it is very unclear to me that local government reorganisations ever really improve local services.
"The hidden costs of change are enormous. I recently received an answer to a Parliamentary Question that showed that the review in Suffolk has already cost taxpayers £218,757 since March last year.
"I urged the Government official to kick these proposals into the long grass. The Government's tinkering with local government structures is in nobody's interest. It is a case of change for change sake.
"I was delighted to have the chance to deliver these postcards to the Department for Communities and Local Government. I am very determined to ensure that the Government listens to what the people of Suffolk really want."
Richard handed the postcards to Steve Evison, senior official covering the Boundary Committee. He welcomed the delay and strongly urged the Department to halt the process for good."
Further details of the case being made by the alliance of three councils can be located at the following website: www.keepuslocal.net
Full details of Local Government Review can be found on the Boundary Committee's website:

Comment on this story
[board listing] [login] [register]
You must be logged in to post messages. (login now)