Tension rises as Arts Centre meeting looms
By Martin Chapman on Thursday, 28th December 2000.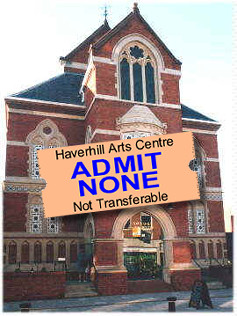 As the date for the public meeting over the future funding of the Haverhill
Arts Centre
draws close a war of incriminations has broken about between officials at the Town and Borough Council.
The war between Gordon Mussett, the
Haverhill Town Council
Clerk and Steve Palframan is over figures used to help decide the possible future of the centre.
Mr Mussett says his figures are based upon a 66% reduction in live performances and a 50% increase in cinema shows, however the Town Council clerk says that the Leisure Services committee actually asked for figures based upon the original programming policy.
This however was described as "absolute rubbish" by Mr Palframan.
A public meeting is being held on January 8 at the
Arts Centre
, which has been called by the ACAG, The
Arts Centre
Action Group. The group has already received hundreds of signatures for a petition against the proposed cuts in live performances at the centre.
Support for the
Arts Centre
has come from across the community, from teachers to business groups, to occasional users of the centre.
In comments added to the petition a number of people have sited the recent success of Bugsy Malone as just one small reason why the centre should remain. Others however like Neil Christian Farrow have attacked the Borough Council for not promoting the centre.
"Instead of saving money by closing it down why don't you spend money promoting it."
David Cook sees the
Arts Centre
as vital to the town's growth: "In order that the town can prosper and remain a good place to live the facilities must grow with it... Forget fireworks and laser shows - these are expensive 5 minute wonders, think longer term!"
Tension is already mounting before the public meeting in the new year which is to be attended by the leader of the Borough Leisure Services committee Sara Mildmay-White and director of Leisure Services Steve Palframan and no doubt the public meeting will be packed and tempers will flare.
Writing in this weeks Haverhill Echo the chairman of the Haverhill
Arts Centre
Action Group. David Hart said: "they wanted councillors to have a firm picture of the public response to their proposals before they made their decision."
Copies of the petition can be found at the offices of the Haverhill Echo in Queen's Square, the Haverhill Weekly News offices in Queens Street, The Ipswich Building Society, Haverhill High Street, the Kedington Post Office and on the Internet by clicking Web link above (www.haverhill-uk.com/admitnone)
And don't forget you can add your views on the continuing saga of funding of the
Arts Centre
through the Haverhill News Online Points of View.
Caption: The Haverhill
Arts Centre
which becomes the focus of a public meeting in the New year where tempers will undoubtedly rise.

Comment on this story
[board listing] [login] [register]
You must be logged in to post messages. (login now)