Top comedy trio on the bill
Friday, 29th January 2010.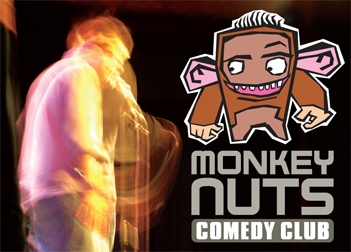 Monkey Nuts Comedy Club returns to Haverhill
Arts Centre
on Sunday, at 8pm, with three great acts.
As son of PR supremo Lynne Franks (the alleged inspiration for Edina, the Jennifer Saunders character in Absolutely Fabulous), Josh Howie was the beneficiary of what could politely be described as an 'unconventional childhood'.
With his angst-inducing source material (naked re-birthing rituals, a Native American spiritual quest, etc) Josh has been described as the new Woody Allen.
Rob Deering decribes his act as lambasting pop culture, promoting apple-based alcoholic beverages and playing widdly-widdly rock guitar, with inimitable cheesy egotism.
In 2007 Rob was slagged-off by Anne Robinson and beat a bunch of other comedians in a special edition of the weakest link - it was all his childhood dreams come true.
MC Maff Brown is the founder of the award-winning Outside The Box comedy club in Kingston. Described as 'a material machine' by Frank Skinner, as he is constantly writing a new 20 minutes for his club every Monday, Matt is a former professional footballer, coach and manager.
Tickets are £7 for members and £8.50 for non-members. Membership is £1 and available, at the interval, on the night. Tickets can be booked on the website, www.haverhillartscentre.co.uk or from the box office on 01440 714140.

Comment on this story
[board listing] [login] [register]
You must be logged in to post messages. (login now)