Tories Celebrate Double Victory
By Jo Deeks on Thursday, 9th June 2005.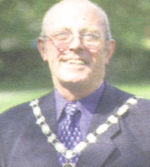 Conservatives are in jubilant mood after sweeping to victory to take both seats in the
Haverhill Town Council
by-election for the north ward.
Elaine McManus and Helen Dudley-Smith won 53 percent of the vote in the two-way fight with Labour. Less than two years after winning their first seat on the council, this latest victory brings the total number of Conservative councillors to six, making them the majority group on the council.
A delighted Elaine said: "I feel honoured to have been chosen by local people to represent them on the town council and look forward to the challenges that lie ahead. Conservatives are working hard to improve our town and I am delighted to be able to join the team."
Helen added: "Haverhill is facing an exciting future and I am thrilled to be given the opportunity to be part of the Conservative team that is working so hard for the good of the town and it's people."
Councillor Tim marks, town mayor and leader of the council's Conservative group said:"Having worked with both Elaine and Helen over recent months, I know they are not afraid of hard work. They are going to be valuable assets to the team here in Haverhill as we work to help implement the master plan and bring about the much-needed improvements that our town deserves."
Speaking after the count, local MP
Richard Spring
said:"I was delighted to learn of the success of the two Conservative candidates in the by-election. These results demonstrate that the Conservatives are well and truly back as a strong working force in the town.
I know that Elaine and Helen will work extremely hard on behalf of local residents. They, like me, want to secure the best possible future for Haverhill, together with the best possible delivery of local services. I wish them well."

Comment on this story
[board listing] [login] [register]
You must be logged in to post messages. (login now)