Town's Largest Employer Celebrates Retail Stars with Haverhill Business Awards!
Monday, 7th February 2005.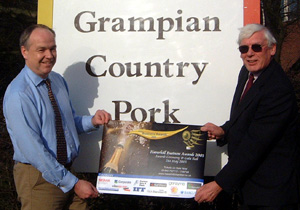 Nominate Your Top Retailer Now!
Grampian Country Food, which currently employs over 1000 staff from the Haverhill area, have announced their decision to sponsor a category in the Haverhill Chamber's inaugural Business Awards. This move reflects Grampian's own commitment to business excellence and innovation and the company's desire to promote public recognition of these values in local business.
Patrick Thornhill, Managing Director of Grampian Country Pork Suffolk, said, "We are delighted to sponsor the 'Retailer of the Year' as part of the Haverhill Business Awards. We are particularly keen to be associated with a local award within a sector that our business is closely linked, namely retail. By recognising the achievements made by retailers serving the community it will benefit the local people by ensuring that quality and service levels meet their expectations."
The judges will make this award to the organisation in the Haverhill and Clare area that can best demonstrate outstanding achievement in the retail sector. Areas of focus will include merchandising, customer service, new concepts and community involvement.
Haverhill Chamber Vice Chair, Elaine Collins commented, "We are thrilled that Grampian has agreed to sponsor this category, and that the company's vision of Haverhill Business concurs with ours. This is a unique opportunity for retailers in the Haverhill and Clare areas to be recognised and profiled as local Retailer of the Year. These new Business Awards have been introduced to shine the spotlight on our business community and particularly those companies who are making a real contribution to the pattern of excellence that exists here."
Do you know someone who out performs other retailers and who consistently exceeds customer expectations? Anyone may nominate a retailer and retailers may nominate themselves. The Call for Entries for the competition has been extended to February 28th. All organisations within a 10 miles radius of Haverhill, including Clare, are invited to enter.
Winners will receive widespread publicity, a prestigious award and be honoured at a Gala Ball on 21st May 2005.
Entry forms can be downloaded from www.haverhillchamber.co.uk or obtained from The
Arts Centre
, Haverhill.
Enquiries to Jason Fitzpatrick: 01440 709794 or Charmaine Symonds: 01440 707717.

Comment on this story
[board listing] [login] [register]
You must be logged in to post messages. (login now)