Whacky balloon show kicks off half-term week
Thursday, 17th February 2011.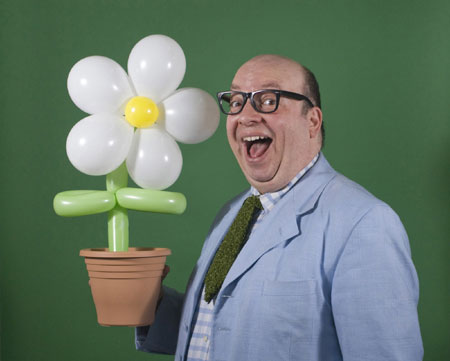 There's a blooming marvellous half-term treat at Haverhill
Arts Centre
next week with Circo Ridiculoso's children's show, The Balloon Gardener, on Monday, February 21, at 2pm
Danny the Wild Balloon Tamer has run out of balloons and must grow his own. The tamer turns gardener.
Seeds of hilarity are sown as Danny attempts to cultivate bold, colourful, latex shapes in pots. The plot thickens with whacky weather and problem pests, who attempt to eat Danny's luscious latex.
Danny puts the rubber into shrubbery - this fool for flowers creates an organic garden of delights.
The Balloon Gardener is for family audiences aged 4+. It is a highly visual fusion of top-notch tomfoolery and comedy chaos, and is suitable for the deaf, hearing impaired and non-English speakers. Warning: loud pops, and flashes of lightning and comic genius!
The performance is approximately 45 minutes long. Tickets are £5 each or £18 for a family ticket (two adults, two children or one adult, three children). To book call the
Arts Centre
box office on 01440 714140 or go to www.haverhillartscentre.co.uk

Comment on this story
[board listing] [login] [register]
You must be logged in to post messages. (login now)