Big Bash 2007
Monday, 23rd July 2007.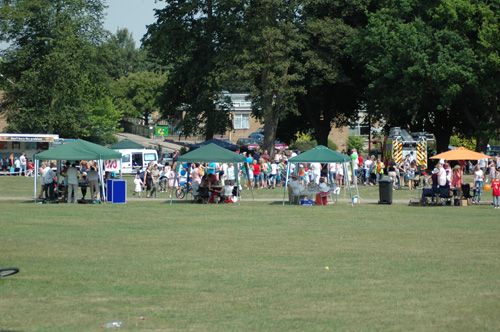 THE BIG BASH on Sunday 29 July is Haverhill's annual charity fund raising day. This is the 8th Big Bash - the original Bash was held to celebrate the centenary of the Recreation Ground in the year 2000. The prime purpose of the day is to enable local groups and organisations raise funds and give information about what they do while a programme of events and entertainments keeps those attending interested and amused.
With events and entertainment running from 10.00am until 5.00pm including Haverhill Silver Band and Colettes Entertainment School, plus more than 20 charity stalls, displays, refreshments and a giant car boot sale, the Big Bash is a fun day out for all the family. Entertainment includes a walkabout by two mountain gorillas and their comic intrepid explorer, The Invisible Men with their hilarious award winning show and clay workshops.
Haverhill Town Council
, who organise the Bash and fund the entertainment are hoping for big crowds to support the local groups.
Nick Keeble, Arts & Leisure Manager with the Town Council commented: "Awareness of the Bash has grown over the years. We are not trying to recreate
The Haverhill Show
but to organise a unique event where the key thing is fundraising and fun".
On the same day, the Haverhill Round Table will promote their 10-5-1 events with a 10km Road Race, a 5km Fun Run and a 1km family walk which raises funds for local projects supported by the Round Table. Road closures will occur around the Recreation Ground and the High Street between 10.30am and 1.00pm for the Road Race and Fun Run along with parking restrictions around the Recreation Ground.
For the car boot sale, it is requested that no cars are on the Recreation Ground before 8.30am. Costs are £6 for cars and £10 for vans. No need to book - payable on the day.
PROVISONAL PROGRAMME OF ACTIVITIES
10.00am CHARITY STALLS OPEN - CAR BOOT SALES START
11.00am 10km ROAD RACE Starts
11.05am 5km FUN RUN Starts
12 noon -2.00pm CLAY WORKSHOPS
12.15pm 10km / 5km Presentations
12.45pm-1.00pm COLETTES ENTERTAINMENT SCHOOL
1.00pm 1km FAMILY WALK
1.15pm - 1.45pm INVISIBLE MEN
2.00pm-2.15pm COLETTES ENTERTAINMENT SCHOOL
2. 30pm-3.00pm INVISIBLE MEN
2.30pm-4.30pm CLAY WORKSHOPS
3.00pm - 5.00pm HAVERHILL SILVER BAND
Gorilla walkabouts between 11.30am and 3.15pm.
The Big Bash is part of Summer in Haverhill. The Box Office and information line for Summer in Haverhill 2007 is at Haverhill
Arts Centre
. Call 01440 714140 for tickets and information. Full details of the programme are available on a leaflet available from the
Arts Centre
,
Haverhill Library
,
Leisure Centre
and other outlets.

Comment on this story
[board listing] [login] [register]
You must be logged in to post messages. (login now)