Calling Haverhillians
Monday, 27th August 2007.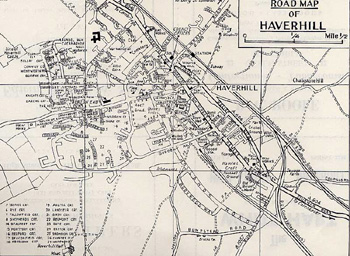 Haverhillians Remembering is the working title of a project that will be gathering memories from people who lived in Haverhill in the 1950's and early 1960's when it was designated as a London Expansion Town. The project will also look to gather images and documentation from the time to supplement the material that is already available through the Local History Centre.
www.Haverhill-UK.com has already provided a platform to highlight the enthusiasm and nostalgia felt by many former residents of the town who regularly converse and share memories through the
Message Boards
on this site. A wealth of detail from the past can be found on these pages. Memories range from picking violets on the banks of the old railway line, through to vivid recollections of Haverhill Secondary Modern, dances at the town hall and bands parading through the streets of the town.
Now, memories of people living in Haverhill between 1955 and 1965 will be gathered by trained oral history recorders working with individuals and small groups. The work will be done in people's homes, at the
Arts Centre
or possibly on location at particular sites in Haverhill that played an important part in the history of the town at that time.
Haverhill Town Council
are working with St Edmundsbury Borough Council Heritage Service and Haverhill & District Local History Group on this project which should culminate in the publication of a booklet and / or the production of a CD or DVD.
Nick Keeble, Arts & Leisure Manager with
Haverhill Town Council
commented:
"There has been work done with people that moved to Haverhill during that period but what this new project will be looking to do is record the feelings and thoughts of what it was like to be living in Haverhill at the time of rapid growth. How did the arrival of people, shops, industry and housing affect the lives of those people who were already living and working in the town?
"Although the term Haverhillian may not be in everyday usage, we are using it to loosely describe people who were born in Haverhill and are still living here. It may generate a bit of debate on the subject and the project may end up with a completely different title!"
Carol Spinks is the Community Access Officer for St Edmundsbury Borough Council Heritage Service who is working with the community encouraging people to discover their past by exploring local and personal history.
Carol said: "This is an excellent follow up project to the work celebrating 40 years of the Clements. Many of these important memories about Haverhill would be lost if they are not recorded in some way."
A number of likely participants have already been identified but the project is looking for others to come forward who may be able to contribute in some way.
Carol added: "We will have to limit the number of interviews that we can do but we are hoping to be able to find ways for as many people to participate as possible. This could be by writing down memories or providing pictures or other material for an exhibition."
Any Haverhillians who are interested in taking part should contact Vicky Ward at
Haverhill Town Council
, Haverhill
Arts Centre
, High Street, Haverhill CB9 8AR or by telephone on 01440 712858.
Potential participants will be asked to provide information about themselves and will be invited to a project launch in October.
Illustration shows map of Haverhill in 1964

Comment on this story
[board listing] [login] [register]
You must be logged in to post messages. (login now)