The Haverhill Car

Since the early 1990s, the Courier-Cadillac has been affectionately known locally as the 'Haverhill Car'. During this time it has been used as an easily-displayed, attention-getting symbol of the local talent both in engineering and general manufacture. The car has also been used as a focus for events in Haverhill, helping to get a wider range of publicity than would otherwise have been possible, on occasions even reaching the national press.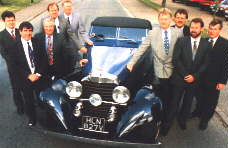 Haverhill 2000
A group of members of
Haverhill Enterprise 2000
pictured alongside the Courier-Cadillac when paying tribute to the local companies who helped in the production of the much acclaimed car.
As stated by a member of this group, who first brought the car to the attention of the local press: "The more the praise for this one-off 'redundant prototype', the greater is the credit to all those who created it. Long may Haverhill join in with the acclaim."
Featured Worldwide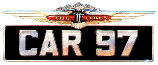 The 'Haverhill Car' has featured in numerous publications world-wide, nearly all of which praise every aspect of the car and its design.
Click here for quotes taken from these publications.
Built By Haverhill Expertise
Because of the number of Haverhill companies that were involved in making the Courier-Cadillac, it soon became affectionately known locally as the 'Haverhill Car'. All the companies listed below must take credit for their part in the fulfilment of this complex project.

Burgess Precision Engineering

Country Custom Engineering

Haverhill Tyre and Exhaust

Central Cadillac (Cleveland, Ohio, USA) *

G.P. Panelcraft (Bracknell,

Berkshire) *

F.M. Taylor (Burwell, Cambridgeshire) *




* Denotes Non-Local to Haverhill



Want to Know More?
| | |
| --- | --- |
| | See the Haverhill Car in Action ! |
Related Stories on Haverhill News :