School Photos - Cangle School Photo - 1948
Below is a class photo from Haverhill Cangle School in 1948.

Are you in the photo? If so, why not sign the guestbook below..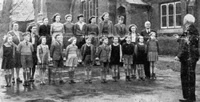 Haverhill Cangle School Photo - 1948
[ Click the Image for a Detailed View ]

Back Row - L to R
Miss Potter, Unkown, Colin Webb, Betty Smith, Jenifer Hammond, Bridget Heaton, Gwen Scott, Evelin Ager, Colin Calver, Unknown, Mr P Underwood
Front Row - L to R
Diane Wright, Micheal Jobson, Jill Cullup, Micheal Jarrold, Barbara Farrant, Tony Iron, Robert Bugg, Beatrice Alderton, Ivor Mitchell, Catriona Graham, Marion Wiseman, Mr P Kibble

Choir Master
Thanks to Roland Jacobs for sending us the photo.
If you have any more information about this photo why not
contact us
?